Led by new consumer research, Europe's largest avocado importer wants more people to understand how they can use the fruit in different ways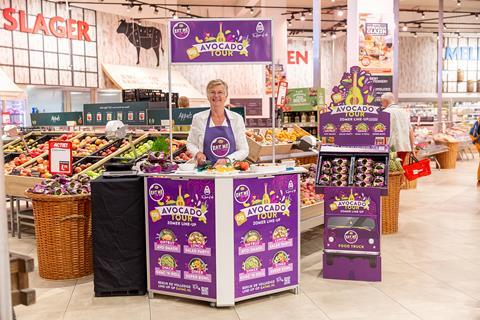 Dutch group Nature's Pride has launched a new campaign to highlight the versatility of its Eat Me-branded avocados and to encourage people to consume the fruit in new and different ways.
Despite stunning sales growth in Europe over the past few years, new research conducted by GfK indicates that a lot of consumers remain unaware of how to use and prepare avocados.
That's why the company, which is Europe's largest avocado importer, has launched the Avocado Tour, a new marketing initiative devised by the World Avocado Organization.
Over the summer, it will give shoppers easy recipes and new ways to eat avocados throughout the day.
"As the avocado expert, we know better than anyone else what this versatile fruit has to offer," says Wilbert Hordijk, marketing and communication manager at Nature's Pride. "You can eat avocado on your bread in the morning, use it as a snack in your salad, or add it to your poké bowl during dinner. Avocados can be used throughout the day."
To increase sales, the company's marketing strategy is based on data-based consumer insight and product knowledge, Hordijk explains.
"Understanding the consumer is essential to creating value," he comments. "Using the avocado shopper's profile, we can understand the purchase behaviour and we can cater to their needs and wishes. We also use online search behaviour for recipe selection. Many popular search combinations, like avocado with egg, and avocado with salmon are included."
Retail strategy
Support for retail customers is also a central part of the group's approach, he points out. "Alongside the promotions, we're organising in-store demonstrations with different ingredients to arouse the senses and create the ultimate product experience. The consumer can feel, see and taste the avocado, and receive an immediate product explanation."
In some stores, special 'food truck' displays will create additional, more engaging shelf space. "The striking POS materials and recipe inspiration cards are also getting people's attention," Hordijk suggests. "This way we can increase consumer awareness to the versatility of the avocado."
Online, meanwhile, Nature's Pride uses geotargeted advertising that enables it to target specific groups of consumers within a 2km radius of any sales location.
"The action mechanism that repeats in the online adverts triggers these consumers to come to the store or web shop," says Hordijk. "And it wouldn't be a summer festival without music. The Eat Me Spotify playlist full of summer hits gives the campaign an extra impulse."
Eat Me avocados are also better for the environment, he adds, since their shelf-life is extended by using a plant-based protective layer developed by Apeel.
"We ensure that the consumer has more time to enjoy the ready to eat avocado and help prevent food waste. If it doesn't go with your breakfast, you can always incorporate it into your lunch. That way, we can all enjoy the high quality for longer and contribute to a better world. That's our mission."