The launch of Naranja Valenciana will be backed by a national marketing campaign that will be extended to EU countries from next year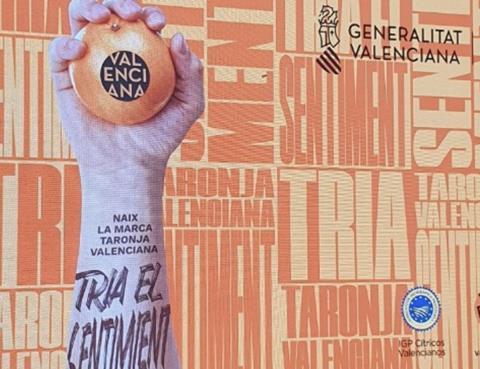 The regional government of Valencia has launched a new brand to promote the community's citrus in the national and European market.
'Naranja Valenciana' (Valencian Orange) was presented by the president of the Generalitat, Ximo Puig, at an event held at the Palau de les Comunicacions on Wednesday.
It will be used to promote a "new renaissance" of Valencian citrus, the "best in the world" according to Puig.
Puig said the Valenciana brand, registered by the regulatory council of the IGP Citrics Protegits, which will be used as a quality seal for oranges and clementines grown in the Valencian Community, allowing it to be easily identified at points of sale
The new brand will be accompanied by a marketing campaign, beginning this year. Under the slogan 'Tria sentiment', the campaign will initially cover the Valencian Community, before being rolled out to the rest of Spain and, from next year, to EU countries. The first two phases of the campaign each have a budget of €500,000.
The aim of the campaign is to increase the consumption of oranges and to reinforce the identification of the orange with the Valencian Community, which produces 2 per cent of the world's citrus and accounts for 14 per cent of global exports.
Naranja Valenciana is the second geographical indicator for Valencian citrus. The first, IGP Cítricos Valencianos (PGI Valencian Citrus), was launched in 1998 and registered with the European Commission in 2003.