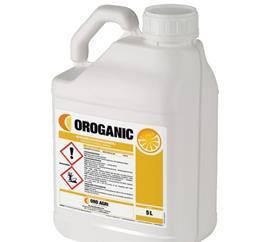 Last month, at the HortiContact exhibition in Gorinchem, Netherlands, Oro Agri launched its new insecticide/acaricide, Oroganic.
According to the company, this plant protection product was recently approved by the Dutch Board for the Authorisation of Plant Protection Products (CTGB) and is based on orange oil, an active substance of natural origin.
The product is reportedly authorised for use on tomatoes, bell peppers, chillis, cucurbitaceae (like cucumbers) and ornamentals (such as cut-flowers) in glasshouses.
Insects controlled by Oroganic include spider mites, whiteflies, thrips, aphids, scaly insects and mealybugs. "Further uses, registrations and label extensions are in the pipeline, as well as several fungicide uses which include Botrytis, Powdery and Downy mildew, for use on both outdoor and indoor crops," the company stated.
Carol Pullen, general manager of Oro Agri in Europe, commented, 'I am very enthusiastic about the launch of this new formulation. It is an improved version of our PREV-AM formulation which has been very successfully used in southern Europe for more than three years. The Oroganic label will expand our portfolio throughout Europe, as we have registrations pending in more than 20 countries.
"We truly believe that it perfectly fits with our mission statement, which aims at bringing innovative and environmentally preferable crop protection solutions to the marketplace. We thank Cebeco, one of our distributors in the Netherlands, for its help at the trade show and we are excited about the positive response we have received from so many growers interested in our new product.'
According to Oro Agri, Oroganic offers a "rapid and robust knock-down effect on target pests", leaves no residue and has no defined pre-harvest interval.
The product is also safe to use with biological control programmes since it has a low impact on beneficial insects and mites, making it ideal for an Integrated Pest Management (IPM) approach.
"Oroganic contains a built-in adjuvant and is also an excellent tank-mix partner with many other plant protection products," the company said.
Oro Agri states that the physical mode of action of Oroganic minimises the risk of resistance to the active ingredient, allowing it to be used frequently against insects and mites. "It can even solve possible resistances to other active substances used in spray programmes and/or tank-mixes," the company revealed. "Oroganic is an environmentally friendly product and an excellent addition to any grower's toolbox."