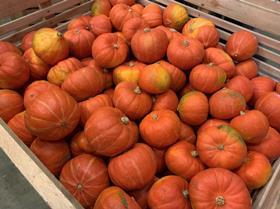 OTC Organics has announced that it has expanded its assortment by introducing organic pumpkins from Colombia for the first time.
In 2016, the group first explored tthe possibility of growing organic pumpkins in Colombia. Last week, the first containers arrived in the Netherlands, and OTC said it was excited by both the quality and appearance.
Pilot project
In 2016 OTC Organics started a pilot in three different regions of the country, under the supervision of product development manager Alexander Restrepo.
In March 2018 the group received the first container of organic pumpkins at its warehouse in Poeldijk, the Netherlands. The first containers were used for semi-commercial trials.
'OTC Organics believes 100 per cent in the potential and advantages of Colombian pumpkins,' the group outlined. 'The quality is stable, weather conditions are favourable for production and the food-print of the product is for sure lower than ones of other origins. That is why OTC Organics established a joint venture with Equilibria for developing the production, and for export and distribution in Europe of organic Colombian pumpkins.'
Equilibria is a Colombian multi-crop agricultural producer that aims to transform lives with sustainable agriculture, and targets international markets through a 100 per cent vertically integrated business model.
Arrivals and quality
"The first containers are in the Netherlands, a bit later than what we expected but it has been a fruitful learning process,' said Juan Pablo Duque, CEO of Equilibria. 'The most important aspect of this first exercise is that the quality and appearance of the pumpkins are great. Next year we will be back stronger and with more volumes to win our place on the market.'
Restrepo said that, while there are some points that need to be improved, they have already been detected and a strategy is being formulated to solve these for next season. 'It is a matter of getting the expertise and not everything goes smoothly on the first spin,' he explained.
Future plans
OTC Organics and Equilibria are planning to increase the production area for the new season, and enticing customers with Colombian organic pumpkins.
"We are sure our buyers will be delighted with the product and the opportunity to have another pumpkin origin in their portfolio,' Restrepo concluded.
OTC already sources orange pumpkins from Argentina, Israel and South Africa.