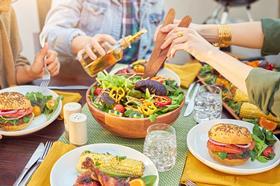 Pairwise, a US-based company that uses Crispr technology and gene editing to develop new varieties of fresh fruits and vegetables, has unveiled Conscious Foods, its first consumer label.
The first branded product line – a type of nutrient-dense, leafy salad greens – will go on sale in 2023, marketed as a packaged salad under the name Conscious Greens.
According to Pairwise, the debut item has been developed with "variety-seeking salad lovers" in mind.
"When my co-founders and I started the company in 2017, we wanted to create a different kind of food+tech company, one that really focused on the end benefits of its products to consumers and customers," comments Haven Baker, the group's chief business officer.
"Now, in 2022, we believe that the best way to realise this vision is by launching a purpose-driven consumer brand, Conscious Foods."
Other products including seedless blackberries, black raspberries, and stoneless cherries, will be added to the range in the near future, the company added.
Funding food
Pairwise has raised US$115m in funding through two rounds, and looks set to lead the way when it comes to the application of gene-editing technology in horticulture.
One of the main reasons for rolling out a brand like Conscious Foods, it says, is to boost consumption of fresh fruits and vegetables by making them more accessible.
At present, only one in ten adults in the US eats the amount recommended by the Centers for Disease Control and Prevention.
"As a purpose-driven brand, we are supporting access to healthy food in the communities where we operate," says Megan Thomas, head of marketing and communications at Pairwise.
"We know that consumers, especially younger adults, are increasingly interested in mission-focused brands, and we are excited to bring purpose into the produce aisle with Conscious Foods."
Conscious effort
Conscious Foods has also created its own Nutritionist Advisory Council, which it says will help the brand develop new fresh produce items that are both "convenient and easily integrated into familiar meals and snacks".
The brand has also teamed up with Foodbank for Monterey County to "help achieve their shared goal of lowering barriers to access healthy fruits and vegetables".
Conscious Greens will be grown in Monterey County, California, an area where it is estimated 34 per cent of residents do not have consistent access to food.
A US$10,000 donation was reportedly made to the charity to mark the launch of Conscious Foods.
"Monterey County is one of the most productive agricultural production regions in the world, yet it is also one of the hungriest counties in California," said Melissa Kendrick, CEO and Executive Director of the Food Bank for Monterey County.
An additional US$5,000 was apparently donated to the Food Bank of Central and Eastern North Carolina.