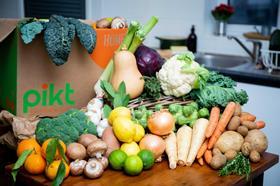 The organic category has continued to grow throughout the coronavirus pandemic, and Matt Godfroy, founder and chief executive of UK organic specialist SunFresh Produce, puts this down to three factors: security, health and sustainability.
'These factors have driven customers to purchase organic goods,' he says. 'Gone is the stigma that organic is for a minority. Now the scale of the benefits that organic brings is being recognised. Take my company. We were the first fresh produce business to be B Corp-certified serving UK retailers. This certification reinforces our commitment to people, the planet and society; this isn't marketing window dressing you see in the industry, it's a security layer to how we operate as a business and a legal commitment.'
The SunFresh range has over 70 fruits and vegetables, sold to retailers, wholesalers and processors,and direct to consumers through its plastic-free box schemePiktFresh. The company also committed to beingNet-Zeroby 2030 along with other B Corps.
For Godfroy, the pandemic has only served to heighten consumer awareness about sustainable and ethical choices. 'Consumers are actively seeking brands and businesses they can trust,' he says. 'A recent survey found that 76 per cent believe capitalism either isn't working correctly or is harmful. The customer is holding business and brands to account. The choice is simple: be transparent and run your business with ethical values,or be lost to history.'
With the aim of providing consumers with a brand they can trust, SunFresh is set to launch Grotopia this year. 'For us it's simple,' says Godfroy. 'We're organic, plastic-free and governed by being a B Corp-certified business. Grotopia will also develop urban farming initiatives with schools, teaching the younger generations how produce grows, serving their canteens with school-grown produce and selling any surplus to the community, all while offering a click and collect service with a retail partner.'
Regarding the likely impact of Brexit on the UK organic sector, Godfroy suggests that only time will tell. 'It's too early to surmise the impact,' he says. 'There are too many factors to consider. I believe the cost of fresh produce across conventional and organic will rise from March onwards. Only when the charges from January and February have been accounted for will importers and retailers have to conclude who should pay the extra costs. It's fair to say the public voted to leave, but which retailer will move on price first?The fresh produce industry is squeezed so much we're running on fumes.'
With Brexit may also come gene-editing, with prime minister Boris Johnson a vocal supporter, but Godfroy sees natural solutions to the challenge of feeding growing populations.
'I'm a fan of the natural environment,' he says. 'My belief is farming should be as natural as possible and follow organic principles. In populated urban areas, I see small spaces supporting communities. We've seen rooftop farming, but this won't meet the growing demand. I would suggest rooftop spaces move to wildflowers and beekeeping, and empty buildingsare used to develop urban agriculture, following the example of companies like AeroFarms in the US.'