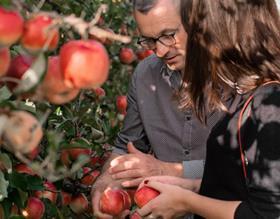 For over 20 years, apple association Pink Lady Europe has been building a relationship of trust with its customers based on the sustainability and passion of its growers.
The company's new Commitment Charter lays out its principal goals relating to the environment, local development, progress for growers and, finally, customer relationships.
"For years, Pink Lady Europe has been nurturing its relationship with stores and customers by proposing activities that go beyond promotion to add meaning, value and education," the association stated.
Two such store initiatives are just about to begin in Europe: Adopt A Tree and Bee Pink. The Bee Pink initiative is part of the bee conservation awareness programme and will take place this spring in Germany and Sweden in partnership with local beekeeping associations.
"With the purchase of Pink Lady apples at 500 Kaufland hypermarkets and ICA stores, our customers can sponsor a beehive," said the company. "They can win jars of honey and access a wealth of information on bee conservation and the life of the beehive throughout the year in a monthly newsletter. We plan to set up seven Bee Pink hives and nearly 4.5m apples will have stickers in the colours of the initiative for over a month."
The Adopt a Tree initiative has also been renewed since last year's success and introduced in five countries. "French, German, Italian, Norwegian and Danish customers, influencers and store employees will be able to sponsor a Pink Lady tree in the orchard of their choice in France or Italy," revealed Pink Lady Europe. "Alongside trade marketing campaigns in over 5,000 stores in Europe at our partner retailers, we predict that approximately 2,500 trees will be adopted. Sponsors will regularly receive news about their tree, the grower and orchard, and will be offered gifts and be able to come and harvest their apples next fall."
The initiatives are designed to create connections and help Pink Lady Europe to inform its customers. "It's also a way for the brand to be a little more involved every day with its stakeholders and place sustainability at the heart of every action, while continuing to innovate," the company said.