Primland's strategy is to stay flexible as rising costs impact the sector, but the French kiwifruit grower-marketer's commitment to offering a complete range remains the same
For French kiwifruit grower and marketer Primland, variety is the spice of life, and the company's range of Oscar-branded green, gold and red kiwifruit, with the option of organic or conventional, certainly gives its customers plenty of choice.
Having completed its Southern Hemisphere season from Chile, with volumes reduced due to soaring costs, attention has now turned to European production, where Primland grows not only in France, but also in Portugal, Spain and Greece.
"At the beginning of October, we started harvesting our gold kiwifruit in Portugal, France and Spain, with sales starting at the end of October," says managing director Jean-Baptiste Pinel. "We are also harvesting Oscar Red Passion. This is a good addition to the kiwifruit assortment. We have invested in this variety so that we can offer our customers the whole range of different coloured kiwifruit."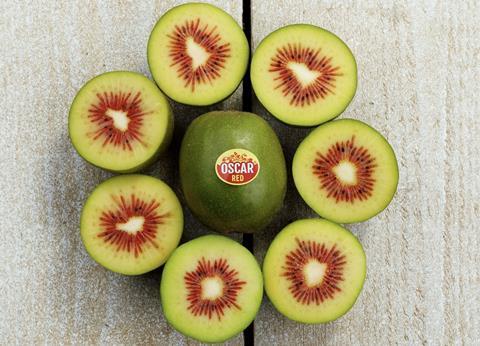 The global market for kiwifruit is still growing, according to Pinel, as consumption continues to rise on the back of the fruit's healthy, clean image, and as new exciting-looking varieties attract new consumers. However, the cost of living crisis remains a concern for consumption in Europe, while rising costs due to the energy crisis are impacting all suppliers.
"Our organic kiwifruit is an important part of our range, but it is also more costly to produce, as the volume per hectare is less," says Pinel. "At the end of the day, it's just an economic reality. If the consumer considers organic too expensive, then they won't buy it."
With energy prices soaring, suppliers also have a dilemma concerning storage. "If you store the fruit for a long time at a high cost, then the retail price will be too high," says Pinel. "But if all the European kiwifruit is sold at the same time, then the market will collapse. So we have to find a good balance."
Logistics to the company's markets in Asia are also set to be more costly, but it is uncertain whether this will have a limiting effect on export volumes. "We don't know if volumes will be lower," says Pinel. "Everything is changing so quickly at the moment, and no one knows what the cost will be. Some routes such as between Asia and the US are actually seeing costs decrease due to the number of empty containers available. We have to stay flexible, because we cannot be sure what will happen. Thankfully Oscar's quality guarantee means our customers tend to be happy to pay a premium price for premium fruit."
This season, the company is planning in-store tastings in Thailand and offering incentives for retailers to "create the most attractive-looking shelf of Oscar kiwifruit". The company manages its own Facebook page and website dedicated to the Thai market, featuring information on the Oscar brand, the varieties of kiwifruit available and their nutritional benefits, plus various recipe suggestions.
This season, extreme temperatures experienced over the summer are expected to lead to smaller sizes for kiwifruit all across Europe, but Pinel regards quality as more important. "The quality is still high," he says, "but it's important that our customers know what we have available. We have a large range of kiwifruit to offer – different colours produced in various countries. We are growers and I think that is important for our customers, knowing that we control the fruit all the way from the orchard."