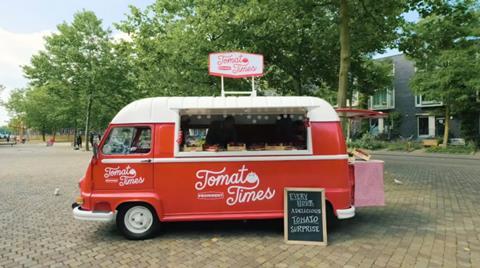 Dutch supplier Growers United wants to stimulate growth in sales of fresh produce by using its tomato brand Prominent to inspire shoppers.
'Researching the behaviour of shoppers in the Netherlands, Germany and Great Britain gives us insight into what consumers want," says Perry Dekkers, the group's commercial director, who was speaking at yesterday's Global Tomato Congress.
"Together with our chain partners, we use this information to increase the value within the fresh produce category. The Global Tomato Congress that took place online yesterday was the perfect opportunity to share our insights and motivate the congress participants to take on that challenge, together with us.'
In the end, more than 2,250 people from 107 countries around the world attended the Global Tomato Congress.
As Dekkers explains, while consumers are central to Prominent's marketing strategy, the brand does not directly target those consumers.
'We don't communicate with shoppers ourselves; we leave that to the retailers. But we do study the behaviour of end users. We also like to base our strategy on facts, which is why we decided to invest in shopper research at Growers United,' he says.
'What are the different types of consumers? Which type of tomato do they enjoy and at what time, and how does this vary between countries? We use all this very interesting data to increase consumption and encourage growth of the category.'
To keep up with trends and make the most of consumption opportunities, Growers United's tomato brand came up with a campaign called Tomato Times.
With a campaign video, tomato recipes for unexpected moments, and with promotional actions on the shelves and the shop floor, Prominent is demonstrating that tomatoes can be eaten all day long.
"However, research in the Netherlands, Germany and Great Britain tells us that not everyone is aware of this just yet. There is still potential for profit for retailers here," Dekkers continues.
"Take breakfast, for example. Only 9 per cent of the Dutch research participants eat tomatoes in the morning, although they are actually open to the idea. It's a simple case of lack of inspiration.'
Tasty snack
Survey participants said they mainly eat vegetables in the evening, as part of a hot dinner. Second on the list of meal occasions was lunchtime.
'Research tells us that tomatoes are not an obvious choice for a snack. There are also opportunities in that regard,' Dekkers adds. 'For example, you could turn your tapas into a healthy eating moment. Tomatoes have endless opportunities for variety. And with a tapas platter for the little ones, parents could also create a healthy and fun moment for the kids.'
Together with its partners, the Prominent tomato brand is doing everything it can to encourage more consumers to enjoy different types of tomatoes more often, at various times throughout the day.
'In other words: activate shoppers, especially at times when it had not yet occurred to them to eat a tomato,' Dekkers suggests. 'And join us. Join our challenge!'