Both volume and quality look promising for the new Nergi kiwi berry season, according to France-based marketer Sofruileg
The first harvest of the new Nergi kiwi berry season is scheduled for early August, according to Jean-Pierre Caruel of Sofruileg, marketer of the Nergi brand, with volumes expected to soar this year.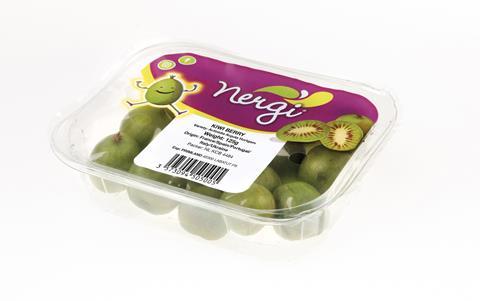 "The first orchards planted in France, Portugal, Spain, Italy and Ukraine are now in full production," said Caruel. "Provided the weather conditions remain favourable right up until harvest, 10m 125g punnets are expected to hit European shelves this season. In the orchards, the quality currently observed bodes well for a successful 2023 season."
The expertise of the growers is developing each year, according to Caruel, thanks to the advice of field technicians and the use of innovative varieties.
"Harvesting is initiated once the quality criteria meet the brand's specifications," he said. Production control, preservation processes, fruit maturation, and logistics are all crucial steps toward offering consumers high-quality, affordable berries. In order to be commercialised, these fruits must meet all the specifications of the Nergi brand, namely overall skin appearance, flavour and firmness."
A study carried out by Sofruileg revealed a large crossover between consumers of Nergi and consumers of berries.
"Consumption trends that started several seasons ago are positive," said Caruel. "The main European countries where berries are consumed are showing greater demand for Nergi. This is particularly the case in Germany and Scandinavia, and to a lesser extent in France and Italy. Consumers of berries are showing a growing interest in healthy, sustainable products, and Nergi fits perfectly into this trend."
Sales are set to start on 20 August and are expected to last until the end of November. This year, Nergi will benefit from a sustained communications programme aimed at raising brand awareness through social media and influencers in target markets, with marketing initiatives in-store to bring the brand closer to consumers.
"They are natural, nutritious snacks, rich in vitamins and fibre, making them the perfect choice for health-conscious consumers," said Caruel.