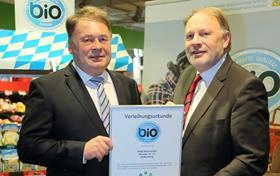 Rewe has become the first retailer in Germany to begin selling produce carrying the Bio-Siegel, a new trademark for Bavarian organics.
"Now our consumers can opt for Bavarian organics with confidence," commented Minister of Agriculture Helmut Brunner at a special launch event for the blue-and-white 'bio' label held at one of Rewe's supermarkets in Munich.
It is understood that other retailers operating in Germany are also considering using the trademark. Rewe's decision to introduce it nationwide for potatoes, vegetables and herbs – as well as yoghurt and flour – makes that more likely, Brunner said, and should provide a further boost to sales of organic fruit and vegetables in the country.
"More and more consumers are prepared to pay for domestic organic food's added values, such as freshness, short transport routes, high quality and traceable production, even at a higher price," Brunner continued.
The new seal forms a central part of Brunner's Bioregion Bayern 2020 programme, a plan he is championing as a Bavarian himself to double the south-east German state's organic production over the next five years. Bavaria currently has more than 7,300 organic farms managing around 230,000ha of land in an ecologically sustainable manner, making it very much the largest organic producer in Germany.
Quality specifications for the label are said to be based on standards already in use by Bavarian organic associations, something which apparently takes them "far beyond" the legal requirements for organic products.