Having introduced varieties with New Delhi resistance in 2021, the Dutch group is extending its breeding programme and looking at various traits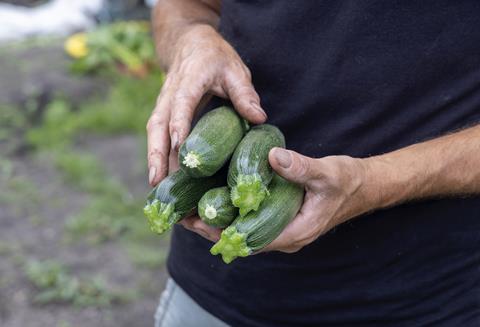 Rijk Zwaan is working on enhancing its courgette portfolio, including increasing the options for growers when it comes to Tomato leaf curl New Delhi virus.
The vegetable seed specialist, which first added courgettes to its assortment in 2017, released the first varieties with New Delhi resistance in 2021, a virus transmitted by whitefly.
"The virus has been a big headache for growers, particularly in the Mediterranean region, for the past seven years, causing up to 80 per cent of production to be lost and also negatively affecting the product quality," explained Rijk Zwaan's courgette crop coordinator Gabriele Lippi.
"This is made extra problematic by the sustained activity of whitefly due to the ever-longer summers and milder winters."
Valuable New Dehli resistance
Since the 2021 launch of the first two varieties offering Delhi Defense resistance, Perseverance RZ and Draconis RZ, a number of growers have switched to these varieties, the group said.
"Having completed a year of successful production, growers have experienced for themselves just how valuable this resistance is," Lippi continued. "It is often the only way for them to stay in the market.
"We are now receiving lots of enquiries, not only from growers in Spain and Italy, but also from other courgette production regions such as France and Morocco."
Those first two green courgette varieties have since been followed by other varieties, according to Alessandro Silvestrelli, Rijk Zwaan's crop manager courgette.
"This year we've additionally introduced the green Orbiter RZ and the white courgette Kinzica RZ for indoor production," he noted.
"White courgettes – which are actually light green – are primarily cultivated in the Middle East, North Africa and Turkey. There is lower pressure from New Delhi there, which is why we also displayed innovative white courgette varieties without this resistance at the spring demo in Egypt."
Additionally, Rijk Zwaan is working on open-field courgette varieties both with and without Delhi Defense.
"In 2024, we will be launching a strong open-field courgette variety, while at the same time we are also working hard on an open-field courgette variety with New Delhi resistance," Lippi confirmed.
"Because of the outdoor cultivation method, insects such as whitefly are impossible to manage. The longer summers and milder winters are leading to greater pressure from diseases and pests."
"In fact, growers in regions such as Sicily have been forced to completely stop producing courgettes," she stated. "In such situations, resistances are the only option,"
Other key traits
Rijk Zwaan said that its innovation efforts extended beyond just Delhi Defense. Labour-friendliness, for example, was another trait high on the agenda due to the current worker shortage faced by growers.
"That's why our indoor and outdoor varieties all have an open structure and small leaves, so that employees can immediately see the fruits in the plant," said Lippi.
Moreover, it's easy to harvest the courgettes with your bare hands, without requiring any tools. This doesn't only save harvesting time, but also prevents the spread of viruses."
The new open-field courgette varieties scheduled for launch in 2024 will have another innovative trait, Lippi pointed out. The plants will have short internodes and compactness, enabling them to withstand strong winds and retain an upright habit for nine weeks.
"That results in high-quality fruits, which is good news for growers and everyone else in the chain," she said.
Longer shelf-life
Other traits that Rijk Zwaan strived to improve were fruit quality and shelf-life, Lippi outlined.
"Fruit quality is an important trait for an export product like courgette. Both internal and external testing has demonstrated that Rijk Zwaan varieties retain their freshness, colour and shine for longer."
Lippi confirmed that, while Rijk Zwaan had only entered the courgette market a few years ago, its ambition was to introduce agronomically strong varieties with new traits.
"It's about including traits that create value throughout the chain, such as labour-friendliness, a longer shelf-life and a total package of resistances so that growers can use fewer crop protection agents," she added.
"Another focus is on varieties that can cope with climate change. Everything revolves around helping courgette growers to improve their profitability."