The Dutch vegetable seed specialist is focusing on high wire varieties of snack cucumbers with resistance to powdery mildew and cucumber green mottled mosaic virus
Since introducing Quarto RZ, one of the first varieties of snack cucumber, in 2005, Dutch seed specialist Rijk Zwaan has driven innovation in the category, breeding new varieties that are "not only agronomically sound and productive, but also delicious and visually appealing", in the company's words.
"Developing varieties with resistances takes time but it's an important role we play as plant breeders," said Marcel van Koppen, crop coordinator at Rijk Zwaan. "Growers face pressure from a number of diseases such as mildew as well as viruses that can have serious consequences for crop viability. In 2019, we enhanced the snack cucumber range with the introduction of Quayal RZ as a PM-resistant version of Qwerty RZ. We've now taken our range to the next level once again by asking our breeders to develop snack cucumber varieties with a combination of PM and CGMMV resistances. This will be a significant improvement for growers and other value chain partners."
According to Rijk Zwaan, the key is to keep the segment fresh and exciting, since in some markets more than 35 per cent of consumers eat snack cucumbers.
One of Rijk Zwaan's new varieties is Quirk RZ, a unique bi-coloured 'baby apple' snack cucumber with a sweet taste and long shelf-life.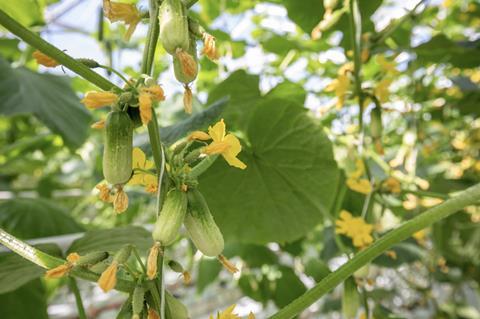 The company has also made additional improvements in the smaller cucumber segment, leading to the development of "one-bites", as well as a striking-looking white-skinned variety ideal for snack cucumber medleys.
"Rijk Zwaan continuously conducts research into new cucumber varieties, important resistances and technical characteristics," it stated. "From generation to generation, the company maintains an ongoing dialogue with growers to anticipate new challenges in changing cultivation conditions, such as high wire. That's why most of the company's current varieties are suitable for both umbrella and high wire systems."