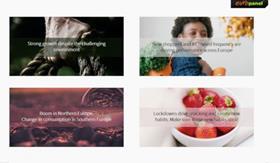 The first online edition of Global Berry Congress was held on 10 December, providing a virtual forum for more than 550 berry professionals to connect, discuss ideas and do business, while offering a programme of expert presentations and panel sessions focused on the theme of sustainability.
Davide Perotto, consumer insight director at Europanel, kicked off proceedings with an overview of the European berry market, including the impact of Covid-19. Despite the challenging environment, he revealed, the berry category had seen strong growth throughout the year.
"So far in 2020, we've seen almost 1m new shoppers buying berries," he said. However, the drivers of growth vary significantly for each type of berry, he explained.
"If we were to look at the total category in isolation, we could infer that most of the value growth is coming from higher prices or premiumisation," he said. "However, looking at the different types of berries, we see that this premiumisation is almost exclusively happening within strawberries. They are by far the biggest segment in the category, so any change in their performance is going to have a greater impact at a total level."
What's particularly interesting, he said, is the drivers of growth for other types of berries. "Blueberries are growing across the board," he stated, "recruiting new shoppers but also driving higher consumption. For blackberries and raspberries, it's actually the decrease in the average price paid that is boosting consumption, especially for blackberries. Blackberries remain stable, so it's existing shoppers buying more frequently and in bigger quantities."
Blueberries are the driving force of the berry category across Europe, Perotto said, particularly in terms of volumes. Instrumental in the whole category's growth has been the pandemic's influence on consumption habits, he revealed.
Six additional in-home meal occasions have been created per week due to lockdown, he said. "Snacking, it's quite clear, is the biggest driver of growth," he added. "Working from home makes it a lot easier to just reach for the cupboard, put the kettle on and have a snack. I believe this has contributed significantly to the rise of berries due to their very snackable nature."
In northern Europe, he said, consumption was booming, mainly led by blueberries and blackberries, while in southern Europe, consumption appeared to be evolving.
'French and Spanish shoppers are switching from strawberries to other types of berries,' he said, 'although they are also purchasing those less frequently. Are berries becoming more of an occasional treat or a baking ingredient perhaps? Italian shoppers fell in love with raspberries in 2020, which drove their purchase of berries across all types. However, this also meant that they shopped in the category a lot less often. Potentially, Italy is showing us a glimpse into the future of what could happen in France and Spain, but only time will tell.'
With recession looming on the horizon, Perotto warned that reducing investment was not a viable option for companies and brands in the long term.
"Maintaining if not increasing investment during a recessionary period is the only way to continue growing despite the difficult circumstances," he said. "If you manage to win market share at this point in time, your chances of turning that into long-term growth are much higher."