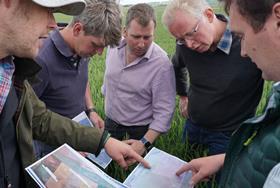 The Soil RegenerativeGroup –aFarming for a Better Climate (FFBC)project facilitated by SAC Consulting, part of Scotland's Rural College (SRUC) –has been created toexplore the best management techniques, treatments, crops and rotations to establish resilient farm soilsand the best way to integrate these into a profitable business.
The group consists of five farmers in the east of Scotland who are experimenting in different ways to revitalise soil health and are atvariedstages of adopting"regenerative",or conservation,farming.
According to the group, ideas are explored viaregulardiscussions and contact on WhatsApp,which allows for frequent visual and video updates, and lessons are shared both in the group and the wider farming community about whathasandhasn't worked.
FacilitatorZach Reilly, of SAC Consulting,called it 'a great example of peer-to-peer learning'.The three-year initiative is currently at the end of its first year.
"The open conversations and diverse activity and experiences ofthese five farmers is the heart of its success,' said Reilly.'Theyare all trying very different and interesting methodsand, althoughacross a mix offarming enterprises,thereis overlapand thereal value is that theyare all learning from each other.They all have a shared ambition to rebuild soil organic matter and restore degraded biodiversity and to make itfinancially feasible.It's abrilliantprocess to watch develop and to see how much working togethercan move farming businesses forward."
The group stated that the focus for all farmers had been to minimise soil disturbance, maximise crop diversity, cover the soil and make it a living root in the system, and bring livestock back into the rotation.
Ross Mitchell of Castleton Farm specialises in strawberries, raspberries, cherries and blueberries produced under polytunnels. He is reportedly experimenting with reducing soil compaction through minimum tillage andhas been attempting various methods ofestablishinggreen cover crops.
Douglas Ruxton, an arable farmer, has focused on regenerative farming since 2012."Many of theprocesses we are looking at were the norm in the pastbut in an industrial era we have become reliant onheavy machinery andchemical inputs,' he said. 'It's becoming clear that these have their downfalls and if the next generation is going to profit from the soilas well, we need to rebuild it.Soilis our greatest asset and we need to get the basics right before we go high tech."
For James Hopkinson at Cloud Farming and Arable Ventures, it is crucial that such sound practices do not end up punishing farmers with extra costs.
'Cover crops, for example, have an establishment and seed cost,' he said. 'However, if thesoilstructureimproves and we see better drainage in a wet year or it holds the moisturein a dry one, then it is worth it. Equally if we can decrease our inputs, we save costs.'
Soil samples from each farm were reportedly sent to six different laboratories at the start of the project, with the soils due to be tested again later this year.