The Belgian importer continues to boost cultivation of its premium Calinda strawberries in Spain, stressing the variety's taste, health benefits and shelf-life
For the seventh consecutive season, Belgian importer Special Fruit has increased production of its Calinda strawberries, grown in three different regions in Huelva, Spain, as the company seeks to keep pace with rising demand.
The company said that until the beginning of June, consumers will be able to enjoy "the highest quality premium strawberry variety the Mediterranean countries have to offer", with volumes set to approach 6,000 tonnes this spring.
"Calinda owes its quality and taste to the region where it is grown," the company said. "The plants grow in excellent conditions in three different regions of Huelva, Spain, to spread cultivation risks: the Doñana region of Almonte, El Rocío; Lucena-Moguer-Palos; and the west coast of Cartaya, Lepe."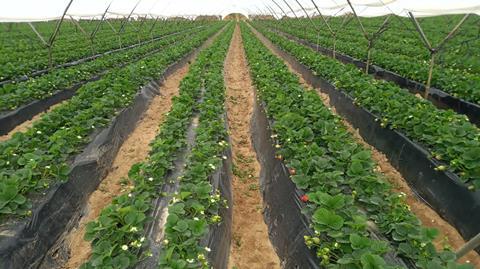 Despite Huelva's small size – just 100km separates Almonte from Lepe – different microclimates prevail in the region. The one constant, according to Special Fruit, is the company's selection of only the best growers to produce the best tasting strawberries.
In addition to its colour, its iconic shape and sweet, juicy taste, Special Fruit believes Calinda's health attributes are just as important for the winter months.
"For the third time in a row, the annual study by Carmen Soria Navarro of IFAPA confirms that Calinda – compared to other Huelva varieties – emerges as the healthiest variety," the company said. "It contains the highest amount of vitamin C and antioxidants."
The importer equally highlighted the variety's long shelf-life, maintaining its shape and colour well following transportation, ensuring less wastage and greater profits, the company said.