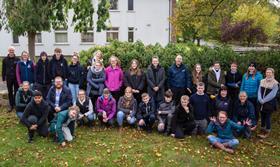 This month, Manchester secondary school Laurus Ryecroft won the title of "Food, Farming and Natural Environment School of the Year 2021" at a UK competition run by LEAF Education and Coleg Cambria.
According to the organisers, the competition aims to put sustainable food production in the spotlight and inspire future generations via on-farm experiences for young people.
Five schools reached the final at the Llysfasi campus, which saw students work with LEAF Education staff, lecturers, the farm manager and industry experts to debate the motion 'Farming can become carbon neutral in the future'.
Following in-depth discussions of the issues and hands-on activities, including in soil analysis, habitat management and renewable energy, students had to present an evidence-based response to a panel of judges.
Carl Edwards, LEAF Education's director of education and public engagement, said he was particularly impressed with the winning students from Laurus Ryecroft.
'Having had zero experience on-farm before, the judges were blown away by how quickly and competently these three young adults understood what our industry is doing to tackle the climate crisis,' he said.
Martin Vevers, the head of school at Laurus Ryecroft, commented: 'Being involved with this competition has provided our students with opportunities they would not normally experience. To meet with inspirational speakers and to learn about sustainability in an academic and practical way is invaluable for them and us. For us to win National Innovation School of the Year just goes to show how much our young people value sustainability in food production and are keen to learn more.'
Elin Roberts of Llysfasi, added: "It was a real pleasure to witness such enthusiasm and love that young people have for the environment, food production and farming. There is a real passion amongst young people to see farming and the environmentbe safeguardedfor future generations.'