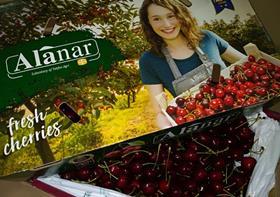 This year's forest fires throughout the Mediterranean region brought into sharp relief the immediate threat posed by climate change in Europe and the importance of efforts to boost sustainability. At Turkish producer Alanar and parent company Tekfen Agri, sustainability has long been central to business.
'Climate change was definitely the biggest challenge this year,' reports deputy sales and marketing coordinator Yigit Gokyigit. 'The cherry season was shorter overall by around two to three weeks and the seasonal calendar for the orchard regions was different.'
According to Gokyigit, the group is engaged in a number of ongoing sustainability projects in the areas of waste management, water management, traceability and social responsibility. It is also committed to raising quality standards, efficiency and productivity through the latest technologies.
'We have received a highly positive reaction from our customers concerning last year's investment in the most advanced technology cherry sorting machine,' he says. 'During the whole season we were able to provide the highest possible quality cherries with various sizes and rich colouration options. Our business partners were very satisfied to receive cherries that meet the precise standards they are looking for.'
Despite the abridged season, Alanar was able to supply the leading supermarket chains in Germany, while growing sales in eastern Europe and gaining a place on the shelves of the major retailers in the Middle East.
'We supply the whole of Europe, mostly Germany, but also Eastern Europe, the Baltic region, the Middle East and Asia,' says Gokyigit. 'Alanar made a huge impact on the cherry market in China last year, gaining a great reputation for our quality.'
Due to the high demand, Gokyigit reveals, Alanar ended up with a 52 per cent share of Turkish cherry exports to China. This year, however, the cherry export protocol between Turkey and China has not yet been activated. "We were expecting to export even more cherries to China this season," he says. "We had programmes that were agreed with Chinese importers months before the start of the season."