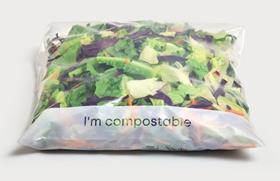 Compostable packaging manufacturer Tipa, which was established in Israel in 2010, believes compostable alternatives are set to dominate food packaging in the near future.
Tipa's vision for flexible packaging is to have the same end-of-life as organic matter, while maintaining the qualities of conventional plastics that consumers and brands have come to rely on, such as durability, transparency, sealability, printability and shelf-life.
The material used for the company's packaging is a patent-protected sheet combining plant-based and fossil-based compounds that looks and feels like regular plastic but decomposes under compost conditions.
With the slogan "Packaging that behaves just like organic waste, so nature won't even notice we're here", Tipa aims to address the challenge that flexible plastic packaging poses to the environment through toxic residues and other pollutants.
In the fruit and vegetables sector, today's consumers are better educated about the impact of plastic packaging. They are searching for and demanding packaging solutions that they can easily, responsibly and naturally dispose of without creating micro-plastic trash.
Polls have shown that in both the UK and France, over 80 per cent of consumers want compostable alternatives to plastic to wrap their food. In order to safely transport fruit and vegetables, many of these products need to be packaged and protected from farm to table without creating harmful plastic waste.
According to Tipa, the company's wrapping has the same end-of-life as fruit and vegetables, offering all links in the supply chain – from growers to consumers – a closed-loop system for their produce.
Looking ahead, EPR (Extended Producer Responsibility) schemes and policies will soon hold producers, manufacturers and even retailers accountable for the end-of-life disposal of their packaging.
Organic waste schemes are a low-energy and low-cost solution for waste treatment, allowing compostable packaging to be disposed of with organic waste at home or at commercial composting facilities.
Scientists at Israel's Agricultural Research Organisation (ARO), known as the Volkani Institute, have found that compostable packaging can extend shelf-life. Trials conducted showed that Tipa's micro-perforated compostable packaging extended shelf-life of fresh produce by up to two times.
"For decades, plastic has dominated as the most commonly-used packaging solution for the fresh produce industry's supply chain,' says Merav Koren, Tipa's vice-president of marketing,'and our reliance on practical packaging solutions has only grown with globalisation. Growing consumer awareness about the damage caused by plastic waste, combined with the benefits of organic recycling have pressed the industry to find alternative solutions to conventional plastic with a healthy end-of-life.
'Tipa provides high-performance compostable packaging solutions for the fruit and vegetables sector that have allowed more suppliers to choose compostable solutions. I believe compostable alternatives will dominate food packaging as a mainstream solution in the near future."
The know-how of Tipa's R&D team and the high-performance properties of its films have made compostable packaging viable for markets that previously had no compostable packaging solution, while its packaging solutions fit with industry machinery and manufacturing practices.
Tipa's portfolio includes a wide variety of packaging to accommodate fresh produce's unique packaging requirements and the company continues to conduct research in order to provide new solutions.