At this year's Global Tomato Congress, Totam Seeds presented new cherry tomato and mini-plum varieties, as the diversification trend continues in the segment
Dutch seed company Totam Seeds, part of the Mitsui Group, attended the Global Tomato Congress in Rotterdam in May both as a sponsor and an exhibitor, using the occasion to introduce new personnel at the company and various innovations.
The company officially unveiled its new in-house team, which has grown in size in recent months, gaining fresh expertise in Seniz Pektas, customer service and marketing manager, and Pieter Vermeulen, product development manager.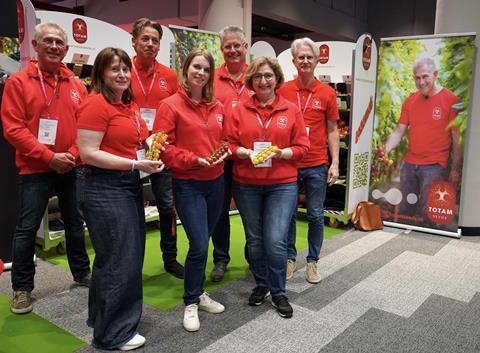 On its stand, Totam Seeds showed off new varieties that the company said attracted a great deal of interest from delegates and tied in well with the congress's conclusions.
"The message from the Global Tomato Congress was clear: the tomato of the future will be more and more colourful, will multiply its possible consumption opportunities, and will become a fundamental ingredient for adding flavour, freshness and aesthetic appeal to a vast array of dishes," the company stated.
Totam Seeds presented three new products at the event: SH 9133, a cherry tomato with a bright yellow colour and a strong, sweet flavour; SH 9074, a bright orange mini-plum with exceptional flavour; and SH9164, a glossy red mini-plum that is sweet and crunchy.
"We are very pleased with the feedback received during the 2022 edition of the Global Tomato Congress," said Pektas, "because our discussions with the top trade professionals gave us confirmation that we are on the right path. Since its foundation, our company has always focused its attention on farmers and people who make their living from farming, developing sustainable ideas and varieties throughout the production chain."
Totam Seeds belongs to the Mitsui Group's Seeds Business Unit, which comprises several seed production firms: Top Seeds International IL, Totam Seeds NL, ISI Sementi IT, Xiangyan Seeds China and Japan Vegetable Seeds JP. Dutch tomato grower Prominent is also a shareholder in Totam Seeds.