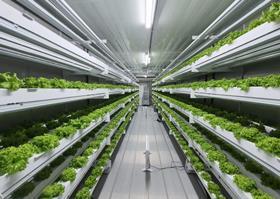 Smart Acres is set to be the latest addition to hydroponic vertical farming in the UAE, due to be launched in the third quarter of 2020. The aim of the new farm, currently in the proof-of-concept stage and located in Abu Dhabi, is to help develop the UAE's farming capabilities and improve food security.
The company revealed that it was beginning to produce a variety of lettuces and herbs, such as oakleaf, Lollo Rosso and shiso, with plans to eventually grow baby spinach, mature spinach and baby rocket. Its vision is to expand to meet the demand in the region for popular items like strawberries and potatoes.
According to Smart Acres, the company is committed to producing a grade-A set of crops using a unique growing process and following strict guidance, such as eliminating pesticides and introducing mandatory anti-contamination air showers for staff.
In collaboration with n.thing, a South Korean vertical farming technology company, Smart Acres has been able to design farm modules using an award-winning IoT-based technology system to grow and monitor its produce.
The technology is also able to detect, track, and adjust the humidity and temperature of the environment in order to maintain the health and growth of the crops.
The vertical farming design technology won the CES 2020 Innovation Award, thanks to its ability to mitigate such issues as water waste, insect infestation and soil nutrient depletion.
Smart Acres has been developed by a team of experts – CEO Abdulla Al Kaabi, director Sean Lee and lead project manager Aphisith Phongsavanh. Through a combination of technology and collaboration, the team aims to join together the growing ecosystem of UAE farms and technology to boost economic development and diversification.
The UAE, like much of the Gulf, is mostly desert with much of its land presently unsuitable for farming, particularly during the summer months, when temperatures can reach a high of 50C with humidity in some places approaching 100 per cent.
Smart Acres joins other farms in the UAE that have emerged in recent years to help boost the nation's food security and domestic agriculture. They include the likes of Badia Farms, Madar Farms and Pure Harvest, whose produce includes tomatoes, cucumbers and microgreens.
In addition, UAE supermarket Spinneys recently announced the launch of its incubator programme to support micro food and beverage suppliers across the country. In line with the UAE's National Food Security Strategy, Spinneys' incubator programme is the first of its kind in the region to grow as much local food as possible, thereby reducing dependence on imports.
The UAE currently imports around 90 per cent of its food, and farms like Smart Acres are looking to slash that percentage.