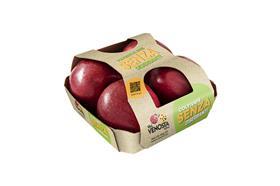 A desire to protect the environment, people and future generations has prompted Italian apple brand Val Venosta to develop a new range of fruit produced completely without herbicides.
'When it comes to meeting the needs of retailers and raising the quality of service, while providing the consumer with safe, healthy and genuine options, Val Venosta Apples are there,' comments Martin Pinzger, general director of marketing association VI.P Val Venosta.
The apples will be sold initially in so-called Blitz trays, entirely plastic-free packs that contain four or six fruits.
Two years ago, apple growers in the Val Venosta region of South Tyrol agreed on a voluntary basis to abandon the use of herbicides.
'In 2018, 26.5 per cent of the crop was grown without herbicides, and in 2019 our herbicide-free production area have grown,' says Pinzger. 'We expect this to keep growing over the next five years.'
Growers have reportedly switched to a technique called crushing, which involves the use of machinery to chop up weeds.
'The result is an apple grown 100 per cent free of herbicides and of better quality,' says Pinzger, adding that the new method has also resulted in slightly smaller but far crisper fruit that stores better.
'The colouring of mountain-grown Golden is also better, with a higher Brix level and more notable sweetness.'