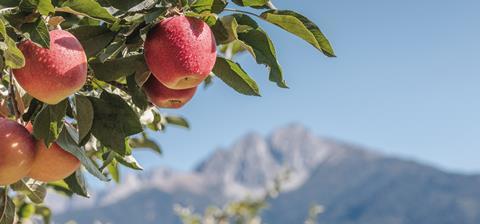 Italian apple marketer Vog says it can now guarantee continuous supply of high-quality, organic apples for 12 months of the year.
That follows a recent increase in harvested volumes in the South Tyrol where the consortium's grower members are based.
This season, Vog's fresh organic apple crop is estimated at 32,000 tonnes, which represents around 10 per cent of its total production.
Vog has sold organic apples for more than thirty years, but it is also clear that organic is a growing segment that it has seen become increasingly important with every year.
"This season's production is estimated at 32,000 tonnes of table apples, with agreements already in place with the various distributors," says Klaus Hölzl, Vog sales manager.
"The markets have reacted well and sales have been strong since the start of the new season, which allows us to plan our activities with confidence."
Commitment to growth
Werner Castiglioni is chief executive of Biosüdtirol, a cooperative that forms part of Vog and focuses exclusively on organic production.
"Our farmers are constantly committed: we have 300 farmer members who give their best every day to offer high-quality apples to those who choose organic," he comments.
"For Vog it is a mission, a passion and a source of great pride that every day we can offer consumers genuine, natural fruit that respects both the environment and the people who grow it."
Two new apple varieties that were officially launched at the start of 2020, RedPop and Giga, are now available as organic fruit too. The pair are are naturally resistant to scab, and this apparently makes them "very suitable" for organic cultivation.
At the same time, organic production of other innovative, licensed varieties like Envy, Kanzi, and Pink Lady is also reportedly increasing.
Marketing direct to consumers
And since its Bio Marlene and Biosüdtirol brands now attract a loyal following, a notable part of the consortium's marketing strategy involves speaking to shoppers and consumers.
"Our commitment now also translates into communication strategies aimed at boosting demand," says Walter Pardatscher, Vog's chief executive officer. "We aim to directly involve end consumers who, although interested in organic products, do not yet buy them. We believe there is still a large market segment to be conquered."
Biosüdtirol plans to take part in three organic trade shows this autumn: Biolife in Bolzano (5-7 November), B/Open in Verona (9-10 November), and the Nordic Organic Food Fair in Malmö (17-18 November).