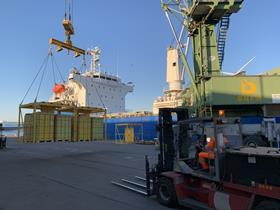 The first shipment of Zespri SunGold kiwifruit has arrived in Belgium, heralding the start of the marketer's 2020 European campaign.
The vessel, Crown Topaz, landed in Zeebrugge on Sunday carrying just over 1.253m trays of SunGold. The first arrivals of green kiwifruit are expected in week 20.
Zespri expects to supply around 55m trays of kiwifruit to Europe, comprising 20m trays of SunGold and around 35m trays of green fruit.
Twenty-five vessels will arrive in Zeebrugge on a weekly basis, the first three being reefers and the rest containerships, while around 11 vessels will arrive in Vado and Tarragona.
Nele Moorthamers, acting general manager Europe, said while there are ongoing challenges associated with COVID-19, all European ports are functioning well.
"We'll continue to monitor the changing COVID-19 situation closely and are adopting a precautionary approach. The safety of our people and fruit remains our priority," Moorthamers said.
"We are looking forward to the start of the season. We're expecting another great tasting crop of premium-tasting Zespri kiwifruit which has benefitted from this season's warm weather and excellent pollination."
With the new campaign comes to unveiling of a new brand, which according to Zespri "reflects the company's purpose which is to help people, communities and the environment thrive through the goodness of kiwifruit".
"Zespri Kiwifruit are not only among the world's most nutritious fruits, but they also taste amazing, so consumers can make the better choice of reaching for a snack that is both healthy and delicious," said Moorthamers.
"And to celebrate the importance of being healthy, we've introduced a new tagline, empowering our people to 'make your healthy irresistible'."
The new brand will be progressively rolled out across Zespri packaging and collateral and enter markets from May onwards.
This season also sees the opening of a new packhouse in Zeebrugge, which is expected to be fully operational by mid-May.