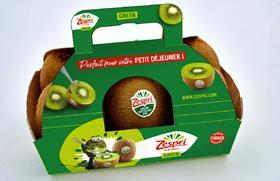 New Zealand-based kiwifruit giant Zespri is ramping up its efforts to ditch plastic with its investment in a new packhouse in Zeebrugge, Belgium, to produce its 100 per cent cardboard kiwifruit packs.
"2021 marks a real turning point," the company stated, "thanks to the larger scale deployment of 100 per cent cardboard packs."
Since 2018, Zespri has pursued a combination of local and global initiatives to reduce plastic packaging. Last year, French retailer Monoprix became the first to sell the entire Zespri range in 100 per cent cardboard packs.
The company's packing station in Zeebrugge reportedly allows for the automated production of these news packs.
This season, in an effort to expand their use across France, the Zespri France team has developed new cardboard packs "adapted to the machines and operating methods of its French distribution partners".
As a result, 2021 is expected to see 100 per cent cardboard trays account for just over three-quarters of volumes sold, compared with just 4 per cent last year.
In France, all of Zespri's packs will be plastic-free and 100 per cent cardboard in time for the introduction of France's AGEC law against wastage and for a circular economy on 1 January 2022.
Zespri stated that its efforts since 2018 demonstrated the company's commitment to sustainable packaging and to the goal of minimising its impact on the planet and on people.
"This long-term strategy reflects the commitment of Zespri, which for many years has been imagining increasingly sustainable packaging to meet consumer expectations and minimise its impact on the planet and on people," Zespri said. "The year 2021 is a new key step in this process towards the packaging of tomorrow and a circular economy."
By 2025, the company pledged, all Zespri packaging should be 100 per cent reusable, recyclable or compostable.