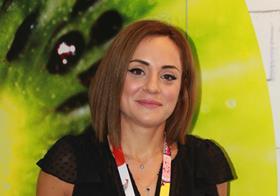 Investments are set to continue at Greek exporter Zeus Kiwi, according to general manager Christina Manossis, not least in the development of the highly sought-after gold kiwifruit.
"New Kiwiplant is the company based in Italy, which is responsible for marketing the new gold kiwifruit," says Manossis. "We are a shareholder, along with another Greek company and two Italian companies. We do the research into varieties of gold kiwifruit, and our efforts of the past ten years are bearing fruit. We have two varieties, planted in Greece and Italy. We just organised a field day to allow visits to the orchards. Our intention is to expand production in Europe."
New Kiwiplant varieties are intended predominantly for the Asian market, including China, Indonesia, Malaysia and Singapore, but Manossis reveals that the company is also seeing some interest from the UK. And with gold kiwifruit volumes set to rise, the company will need more coldstorage space.
"We have been approved for a further €900,000 investment from the EU for 2021, which is for the expansion of our cold rooms," says Manossis. "Next year, we will plan a new five-year operational programme, which will include the construction of a new packhouse dedicated to gold kiwifruit, among other investments."
The heat experienced in Greece this summer, which caused devastating forest fires, has reminded many of the importance of tackling the climate crisis, but Zeus Kiwi was an early adopter. Back in 2012, the company was one of the first in the business to calculate its carbon footprint, and this month the company is set to deliver an updated CO2 declaration.
"It is very important to measure our environmental performance," says Manossis. "The EU Commission will be introducing new rules in the coming years, and we need to understand our position in order to improve. We have always been very environmentally conscious. It's in the Zeus Kiwi management's philosophy. In the whole of Europe, including the UK, the retailers are very environmentally oriented, so our efforts are appreciated."
In January, the company also plans to deliver an environmental impact assessment for its grapes. "It's more complicated for grapes than for kiwifruit," says Manossis, "but we wanted to do this. We thought, if we can do it for one product, we can do it for the others. We need to ascertain our impact on the environment for all our produce, and so grapes are next. '
Zeus Kiwi is currently seeing a rise in its grape volumes, with packing having already commenced for the UK market. "We had some issues, as the summer was very hot," says Manossis. "Fortunately, September was chilly, which was good for the colour. For Crimson Seedless, our main variety, the crop is in a better condition than in Spain or Italy. But Crimson is an old variety, and we are looking at new kinds of dark-red and also white seedless grapes. We are searching for late varieties that are resistant, easy to grow and have a good shelf-life. Our main window in Greece is October to early December, with the best period coming in mid- to late-November."
For the summer period, Zeus is also interested in adding apricots to its portfolio, says Manossis. "We've tested some late varieties and settled on one or two that we will develop with our growers," she says. "This will enable us to market fruit for 12 months of the year without a gap during the summer."
Brexit challenge
Zeus Kiwi has been delivering kiwifruit to the UK market since 1993, and the company hopes that the strong relationships it has developed in that time will enable the exporter to surmount any fresh challenges presented by Brexit.
"The bond we have with the UK is very strong," says Manossis. "We've had some difficulties, but these are challenges that we want to solve. And we like a challenge – even if it's imposed by the political environment."
So far, she says, Zeus Kiwi has seen no major changes in kiwifruit pricing in the UK, while sales have been excellent. "Last year was one of our best years in the UK in terms of volumes," she reveals. "We sold more than ever, and we are getting more and more recognition for our efforts. The UK is a value market that we will continue to support.'