New packaging pasteurises vegetables and locks in freshness to extent shelf life and help reduce food waste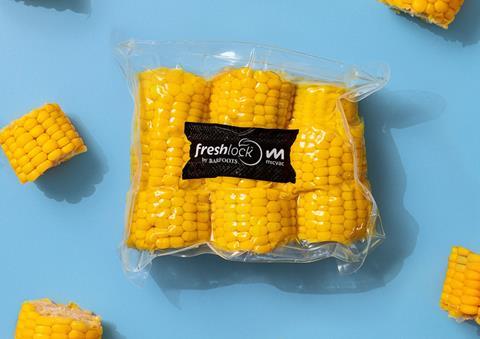 Leading sweetcorn supplier Barfoots has launched an award-winning new packaging solution called FreshLock designed to extend product life, reduce food waste, and save time in the kitchen.
The FreshLock process gently pasteurises vegetables, extending their life while retaining their taste and vitamin and mineral content, without the need for artificial preservatives or additives.
Barfoots is currently using the technology with its sweetcorn but is also developing FreshLock for use with other vegetables.
According to the supplier, the life of sweetcorn is extended by 5-10 times, which means waste can be reduced and stock levels can be managed more effectively.
In addition, FreshLock sweetcorn is processed in a factory powered by its own waste, thereby boosting the product's environmental credentials.
It is available in a variety of cuts, such as bites and ribs, ready to eat, or at the stage where it only takes a couple of minutes to reheat.
FreshLock is currently available to the foodservice sector directly from Barfoots or through Sysco's foodservice subsidiaries Fresh Direct and Brakes.
"Barfoots strives to bring new and exciting ways for consumers to enjoy vegetables and we have a rich history of doing so," said Kim Barfoot-Brace, Barfoots' brand and marketing manager.
"We're super excited about this innovation that, in addition to providing a delicious product, also addresses key sustainability issues."
Having pioneered the mass supply of sweetcorn to UK retailers in the late 1980s, Barfoots continues to be the UK's largest grower and importer of the vegetable. Alongside its UK operations on the south coast of England, the company has production in Spain and Senegal.
As well as sweetcorn, the business supplies a number of semi-exotic vegetables including courgettes, squash, sweet potatoes, asparagus, chillies, and Tenderstem.