Harvest London believes vertical farming can help to reduce the UK's reliance on herb imports while offering consumers fresher, more local ingredients
Vertical farming specialist Harvest London has made an agreement with Planet Organic that we see its living basil sold exclusively at the UK organic retailer's stores across London, according to a report from the Grocer.
According to Harvest London, Planet Organic will be the only retailer to sell vertically farmed and living herbs branded in this way following the downsizing of Infarm in the UK market.
Harvest London's herbs are grown in its East London facility in Leyton and transported to stores by bike or electric van "in a matter of hours".
The herbs are packed in paper cones that provide advice on how to maximise the life of the plant.
"We've always sought out partners who see the potential of our farming technique to tackle the problems in the food system, and being stocked by a respected brand like Planet Organic is a big step forward for us," said Matt Walton, commercial director at Harvest London. "If vertical farming is going to have the positive impact we know it can, we need to get as many people eating our produce as possible. Being available in store is a great chance to tell customers about the benefits of this new way of growing."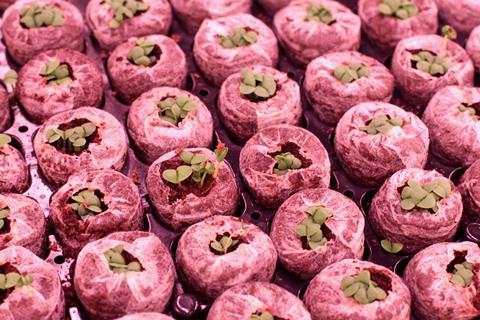 Lotty Lacey, fresh food and drinks buyer at Planet Organic, commented: "At Planet Organic we are continually discovering new, innovative products that offer better options for our customers. We're proud to launch our first hydroponically-grown produce, choosing to work with Harvest based upon their unique sustainability credentials and zero-pesticide policy. Not only have Harvest enabled us to stock locally grown basil year-round, significantly reducing food miles, they also reduce our packaging by replacing plastic bags with paper cones."
Harvest London is also developing a new 15-metre tall farm on a 140,000 sq ft property in Beddington, South London, the Grocer reported, following the backing of sustainability-led investment manager Foresight Group.
In the future, Harvest London revealed plans to "build a network of data-driven vertical farms, transforming the sustainability of food in our cities".
"While you might not yet have tasted something grown in a vertical farm, in the future this type of produce is going to be on your menu, whether that's from a supermarket, in prepared food, or eating out," said Chris Davies, founder of Harvest London. "Vertical farming is a technology that can complement British agriculture, helping us reduce our reliance on food imports, and give consumers fresher, more local ingredients. We want to make the UK a world-leader in this exciting new industry."