New research by veg box provider shows consumers think land used to grow decorative Halloween pumpkins should be put to better food use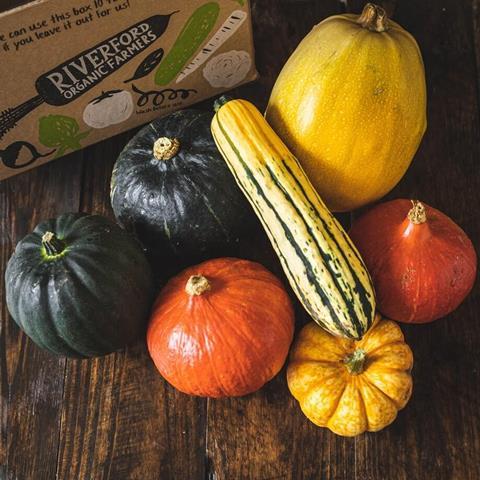 Riverford is urging the public to ditch traditional Halloween pumpkins in favour of squash in an effort to reduce and raise awareness of the food waste that accompanies the celebration each year.
With a global food crisis looming, Riverford wants people to question why so much land is set aside to grow produce that is largely aesthetic.
As part of its Choose Taste, Not Waste campaign Riverford has released various decoration ideas and recipes to inspire the public to "spookify their squash and enjoy the taste of it in the process".
According to environmental campaign group Hubbub, 22.2 million pumpkins are estimated to be left uneaten this Halloween.
New research has revealed that two-thirds of consumers claimed they didn't care about the taste or nutritional value of their pumpkin. Despite this, almost half thought that the land we use to grow Halloween pumpkins could be put to better use.
Meanwhile, over a third (37%) have either never cooked with a Halloween pumpkin or don't know how to cook a meal with a pumpkin.
Riverford said it is "on a mission to change how we celebrate Halloween", suggesting a switch to tastier and more versatile squashes that are grown primarily as food rather than aesthetic accessories.
The aim of the campaign is to reframe how the public thinks about Halloween in the context of the climate crisis and global food shortages.
Currently, the UK is growing millions of pumpkins that ultimately nourish no one, and generally end up in landfill.
Pumpkins are known to rot quickly – often before they've even left the field – and often lack flavour. Meanwhile, alternative squashes exist that are primarily grown for their taste and nutritional value.
These can be "justifiably adapted into creepy Halloween decorations" as well as being eaten, Riverford said.
The ghostly-grey crown prince squash, in particular, lends itself to Halloween festivities, Riverford said.
Riverford founder Guy Singh-Watson said: "We all need to learn how to tread more lightly on the planet, which will involve questioning things that we have all assumed to be OK.
"I have enjoyed growing pumpkins throughout the last 35 years. They're a lovely crop, but over the years the idea of growing something that's going to be thrown away becomes a problem; to generate a waste problem without feeding anyone is no longer acceptable.
"That might have been OK in the past but, given the environmental and food affordability crisis we are in, it no longer is today.
"Growing any annually planted crop comes with a considerable environmental cost; personally, I am no longer willing to inflict that cost on our planet to generate a mountain of waste without feeding anyone.
"To solve the mess, we are in we need to be smarter than that; let's paint a face on a squash instead – and then eat it."