Finding ways to farm that are economically, socially and environmentally acceptable topped the agenda at LEAF's annual conference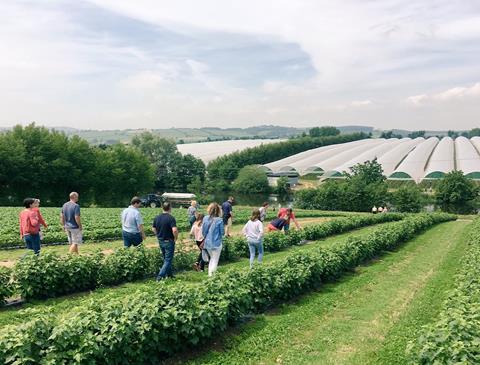 Sustainable food and farming group Linking Environment and Farming (LEAF) held its first in-person conference in three years on Friday (3 February) in Warwickshire.
Tackling the themes 'tradition, transformation and tactics', LEAF directors and keynote speakers discussed the next chapter for global farming and the role of LEAF in front of a packed audience at the historic Stoneleigh Abbey, near Kenilworth.
In his opening address, LEAF chairman Philip Wynn said LEAF had experienced a period of unprecedented growth as well as turbulence: doubling in size to meet the rise in demand from the retail sector adopting LEAF Marque to accelerate their sustainable farming commitments; and dealing with the untimely loss of its chief executive, Caroline Drummond MBE, who led LEAF since its inception in 1991.
Clare Mike, LEAF director of business development, said engagement with the LEAF marque was growing faster than ever before, with now over 12,000 certified growers around the world.
And Carl Edwards, LEAF director of education and public development, added that over 200 UK farmers opened up their farms for Open Farm Sunday in 2022, and that LEAF's work educating young people aged 4-18 on farming, the environment and how to work in the sector was gathering pace.
Wynn said 2023 represented a new page for LEAF, which would soon appoint a new CEO. Going forward, the organisation was determined to build on Drummond's legacy, he said, so her vision could continue to shine. With that in mind, LEAF this year launched 'The LEAF sustainability innovation awards' in memory of Drummond, who died in May 2022.
"LEAF is in very good shape at a time when sustainability is on everyone's agenda," said Wynn. "Climate change is our biggest threat. At the same time the future is not what it used to be. We live in a world of volatility, complexity and ambiguity. We need to find ways to farm that are economically, socially and environmentally acceptable."
LEAF conference speakers, Nick Padwick, farms and estate director at Wild Ken Hill in Norfolk; Ed Ikin, director of Kew Gardens' Wakehurst estate in Sussex; and Caroline Mason of Seeds to Thrive, gave their perspectives on how regenerative farming intentions can be translated into reality.
Padwick detailed the positive environmental outcomes from his farm's three-pronged approach of wilding, regenerative agriculture and traditional conservation. Ikin outlined the ecology programmes implemented at Wakehurst, and research projects in measuring carbon stocks on the estate, as well as nature's beneficial effects on humans. And Mason gave an account of personal development and growth.
During a question-and-answer session with the audience chaired by freelance journalist Tom Heap of BBC Countryfile fame, Padwick said commercial farmers have lost the ability to farm without inputs, even though – according to soil experts – they aren't needed. Chemicals kill all the natural organisms in the soil that release nitrogen, that do all sorts of things that chemicals are being brought in to do. At his farm, the future was farming without chemical inputs, he said. "Our soils will recover and we will be more sustainable going forwards," he said.
Ikin added that scientists at Kew Gardens regarded gene-editing as an invaluable tool for future food production. He added that growers needed to improve carbon measurement on their farms and learn how to store and sell it.
Closing the conference, professor Mike Berners-Lee of Lancaster University's Institute for Social Futures and author of 'There is no Planet B', delivered the inaugural LEAF lecture on the need for new thinking about the challenges the world is facing.
"One hundred years ago, humans couldn't have destroyed the planet even if they did something catastrophically stupid. Fifty years ago, they couldn't have destroyed it either, bar starting a third world war. Now, we don't have to do anything stupid and we are smashing the place up," he said. "This is a totally new context that we are in. The challenging thing is that everything we do in life has to be reinvented. We have to develop an 'anthropocene fit' for the way we live.
"It is a very joined up challenge where energy, food production, biodiversity are all connected. We have to tackle all of these at the same time. The good news is that for most of them we have the solution already."
Cutting the numbers of animals, in particular beef, dairy cattle and sheep, in the human food system would cut waste from global food production, lower greenhouse emissions and improve biodiversity, Berners-Lee said.
"The world grows more calories than it needs to eat but then loses a chunk to animal feed. It is inherently inefficient having so many animals in the human food system and feeding them crops grown for humans," he said. "They also produce methane and hammer diversity. We don't need meat in our diets in the way we used to."
Switching from airfreight to seafreight when it comes to food imports would also massively cut emissions, he said. And growing more food without photosynthesis, such as in labs or vertical farms, would liberate land from agriculture and thereby help biodiversity.
"The days when sustainability was something peripheral for a business are now over," said Berners-Lee. "It is fundamental to everything they do. We need to reframe growing and decide what kinds of things are OK to grow now in the Anthropocene epoch."
Yet the gap between UK government proposals and their policies to achieve this is "enormous" and "so depressing", he concluded. "If only the government listened to the national food strategy. The government is flying in the face of what science says is needed."