More supermarket support is needed for struggling British apple and pear growers, says NFS chair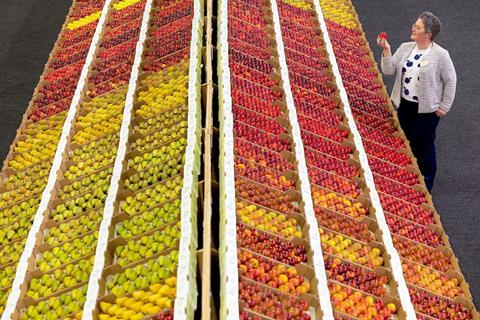 The 2022 National Fruit Show opened in the Kent countryside on Wednesday (2 November) with a stark warning that more needs to be done to support the British topfruit industry before it's too late.
Despite producing an excellent apple and pear crop this season, many growers will struggle to make a profit due to higher input costs (combined labour, energy and fertiliser) of around 20-25 per cent, said Sarah Calcutt, executive chair of The National Fruit Show, organised by Marden Fruit Show Society CIO.
"The quality of the fruit on display here at the show is fantastic this year and it tastes incredible thanks to the growing season, but many growers are struggling," she said.
"Growers urgently need more support from all retailers and we need them to understand the financial pressures growers are facing and to pay a fair price for the crops they grow."
Calcutt said it was disappointing to large volumes of imported fruit – some 50 per cent – on retailer shelves at a time when they should be packed with British apples and pears.
"This is the best possible time to buy British fruit with the maximum number of varieties available and straight off the trees. We need the British public to support British growers and to buy British fruit at a really critical time to help the industry," she said, adding that fruit has been left unpicked because growers can't afford to pay the electricity to store them this season.
"As we sing the praises of the amazing people who make this gargantuan display possible, the big story here is that all of this is under threat. If growers don't get make any money, they won't do it anymore. And from an environmental sustainability perspective, we need orchards," she continued.
"Apple orchards are phenomenally beneficial. They are permanent crop in ground for more than 20 years; the grass strips between trees host incredible diversity; and if you look from carbon capture perspective, orchards are better than pretty much any crop other than agave.
"To have that benefit in the UK, and to have a thriving industry of incredibly healthy product grown in a very sustainable way, it does seem a bit mad that we can't make any money out of it."
Special guest HRH The Countess of Wessex officially opened the 89th National Fruit Show (NFS), which took place on 2 and 3 November.
No stranger to Kent and the agriculture industry, the Countess – who is honorary president of the Leaf Marque – said it was NFS president Teresa Wickham, and her husband Robin, who introduced her to farming.
"They put me to work as a teenager," she joked. "We used to spend our summers picking raspberries and apples. We had many joyous months and years working with Teresa and Robin, and it was that that sealed my love of the countryside and my love farming.
"I know today there are many challenges, but I know all the farmers and producers here are well up for the challenge. You've done it before and you'll do it again."
The Countess presented Kent apple grower Richard Edmed of Clive & Richard Edmed with the award for overall NFS winner for his Bramley crop, produced during one of the hottest years on record.
In its 89th year, the National Fruit Show started with growers from local Kent agricultural societies selecting their ultra class-1 fruit to show buyers from Selfridges.
Today, the event – known as 'the show by growers for growers' - showcases the finest fruit from UK commercial producers who supply UK supermarkets, greengrocers and farmshops, and provides an opportunity for related companies to exhibit their wares.
This year, some 13,080 apples were displayed on the centrepiece of the show. One apple from each tray is also entered into Britain's Tastiest Apple competition
The event also featured around 86 exhibiting companies and concurrent programmes of talks and discussions, organised by the Fruiterers, the Rural Policy Group and Growing Kent & Medway.
The show was sponsored by BASF, HL Hutchinsons, NP Seymour Ltd, Worldwide Fruit, UKCA Ltd and Isolcell.
More information about the National Fruit Show and the education programme can be found at https://nationalfruitshow.org.uk/nfs-education/