Wholesaler to work with growers on development of new passionfruit varieties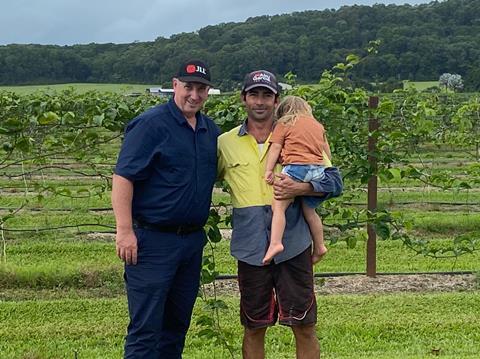 Leading Australian wholesaler and national retail supplier of passionfruit, Jetbest Group, has committed to a long-term partnership to invest in the development of improved passionfruit varieties.
Jetbest has combined its expertise with a group of innovative growers as part of an effort to reinvigorate the market and excite consumers with a delicious new offer.
With over thirty years and two generations of experience growing, marketing, and selling passionfruit, the Group was able to create a breeding programme focused on improving agronomic characteristics and crop performance and the new partnership is set to produce significant volumes of improved passionfruit.
In May 2022, the first of the new varieties – characterised by heavy fruit with improved flavour, juice, and pulp – were introduced to the produce market and received a strong response prompting Jetbest to continue to trial combinations and varieties.
Work on-farm and with agronomists is ongoing and there are currently eight new varieties of grafted passionfruit falling into three styles; standard small black, large oval 'exotic' flavour, and large 'tropical' types being sold nationally.
The partnership now includes 17 commercial growers and five trial sites. Of the next round of 25 new varieties being trialled, the major growing areas will include Coffs Harbour, Tweed Valley, Northern New South Wales and Central Southeast and Far North Queensland. These trials are resulting in several hundred new selections, from which future product developments will be chosen.
With Australian consumption of passionfruit consumption stalling and only 14 per cent of households purchasing on average four times per year, Jetbest hopes the newly developed varieties will delight consumers and reinvigorate the market.
To further support the consumer at-home experience, Jetbest has introduced flow-wrapped passionfruit into national retailers for extra freshness. This breathable packaging has delivered improved shelf presentation and significantly reduced shrinkage in-store and is the first step in a longer-term strategy to drive consumption.
The partnership is also working to develop an engaging online and in-store consumer-facing brand, and it is expected that the combination of an excellent product and an engaging campaign will drive category growth, and increase household penetration and frequency of purchase.