Costa Rica-grown Dole Golden Selection Pineapples said to have 'a deeper golden colour, more aromatic fragrance and sweeter and juicier tropical flavour'
Dole Food Company is introducing a new pineapple in response to consumer demand for a sweeter pineapple-eating experience.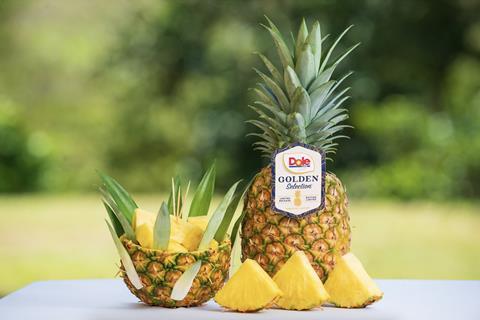 The company's new Dole Golden Selection pineapple arrives at select supermarkets in the US and Canada in mid-April.
Sustainably grown exclusively in Costa Rica, Dole said that the new fruit had been cultivated to taste sweeter and offer a more vibrant tropical flavour that "balances the pineapple's customary sweet and tart sensations while elevating the indulgent taste experience".
The group noted that less than 6 per cent of all Dole pineapples possessed the taste and appearance qualifications necessary to be tagged a Dole Golden Selection pineapple.
The new fruit will be available in limited quantities based on seasonality and availability.
"In the 122 years that Dole has been cultivating pineapples in Hawaii, Central and South America and throughout the tropics, we've learned what it takes to grow the world's best, most beloved fruit," said Dole director of corporate communications William Goldfield.
"While all Dole pineapples are tender, sweet and packed with nutrients, healthy enzymes and Vitamins B6 and C, these new Golden Selection Pineapples glow and taste just a little brighter."