Campaign highlights new Disney movie Wish and will run until the end of March next year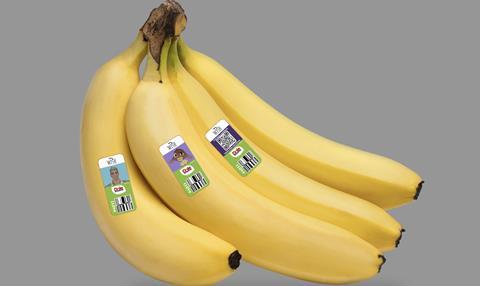 Dole Food Company is kicking off a six-month initiative that "strives to help make the world's wishes for health, happiness and wellness come true".
The campaign highlights the upcoming Disney movie Wish, and will utilise in-store, at-home and virtual activities to spotlight the new film and continue the celebration of 100 years of Disney Animation that inspired it.
The 'Making Healthy Wishes Comes True' campaign launches today (9 October) as the latest manifestation of a health and wellness licensing collaboration with The Walt Disney Company that started in 2016.
Continuing through 31 March 2024, the new programme includes recipes, interactive digital downloads, in-store collectible stickers, and a series of how-to virtual classes.
"For 100 years Disney has shown us that there's no greater magic in the universe than a true wish in your heart," said Bil Goldfield, Dole's director of communications.
"At Dole our wish is to make the world a healthier place. We are asking believers everywhere to share their wishes of health and happiness with us so they can inspire the world toward a better, brighter tomorrow."
A special feature of the campaign is a set of six collectible Dole banana stickers and one unique Dole pineapple tag featuring Asha, Star, Dahlia, Valentino, Queen Amaya and King Magnifico from Disney's Wish on tens of millions of pieces of Dole-branded fruit at supermarkets across North America.
To encourage banana and Disney fans to collect the full set of stickers, Dole will offer the downloadable, printable Dole Peel and Play Sticker and Enchanted Recipe Book featuring spaces for each sticker and a character-inspired appetiser, snack, dessert or smoothie recipe created by Melanie Marcus, Dole's nutrition and health communications manager, and her team.
The sticker book features a magical interactive experience that allow Dole customers to recite a rhyming recipe enchantment and unlock a special video surprise on each character page using the first-ever, downloadable and printable Magic Banana Wands.
Other free assets that will be available on the Making Healthy Wishes Come True webpage include the What Are You Wishing For? Guessing Game, Wishful Eating: Wish You Would Try Jar to encourage the adoption of healthy new foods, Enchanting Wishing Certificate, Wish Colouring Pages, DIY Pineapple Wishing Tree and Pineapple Gift Tags for fruitful gift-giving and Eat the Cosmos: Fruit & Veggie Star Charts.
In addition, Marcus will host a virtual class in November to guide influencers, bloggers and healthy-living enthusiasts through the preparation of a Disney's Wish-inspired recipe, demonstrate how to use the Magic Banana Wands to unlock character-inspired surprises and offer seasonal meal and entertaining tips.