US-based group heralds its new branded range of early red grapes as "juicy, crunchy jewels in your mouth"
International table grape breeder Sun World has announced the launch of its new Ruby Rush brand of red seedless grapes.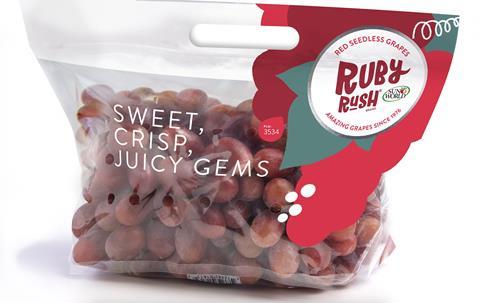 "Sun World licensed growers are harvesting Ruby Rush branded grapes this month in the US, Italy, Spain, and Israel," said the company's table grape breeder Paola Barba.
"The new red grape brand will be used to identify a range of similar red seedless grape varieties, the first of which is Sugrafiftythree," she explained. "Sugrafiftythree offers Sun World growers around the world a sustainable red grape with natural color development, better yields, less input cost, and great post-harvest attributes."
Ruby Rush is described as a "significant move" for the international table grape business, with observers noting there had always been a gap – particularly in the early growing season – for a range of new red seedless varieties.
Barba noted that the initial variety sold under the Ruby Rush brand was a "new generation" red grape that was thought to be an ideal replacement for traditional early-season red seedless grapes like Flame Seedless and other red varieties.
"For consumers, it offers a refreshing tasting experience during the early season," she said.
Sun World described the experience of "biting into these fresh, radiant, red seedless grapes are like juicy, crunchy jewels in your mouth with sweet balanced flavours and low acidity".
"It's also a full sensory experience, as Ruby Rush branded grapes truly are beautiful," the group said. "Their radiant red berries are bound to surprise people with their deep, striking, and vibrant red colours."
Jennifer Sanchez, Sun World's vice-president of marketing, noted that the new variety was versatile, ideal as an "easy treat during the day, or paired with favourite cheeses on a party platter or even frozen as part of an indulgent dessert".
"Not to mention, their juicy, alluring shine makes for a beautiful addition to any plated experience," she said.
Sun World said it was preparing branding and promotional material as the grapes were introduced to consumers.
"Currently, Ruby Rush branded grapes can be sourced from the United States, Spain, Italy, and Israel with additional vineyards being prepared by Sun World licensees in another ten countries," the company outlined.