Despite the multiple challenges at present, including climate change and soaring costs, the popularity of Turkish figs remains a constant, with markets in Europe and Asia showing good demand
The Turkish Black Bursa fig season is progressing well, according to Yigit Gökyigit, sales and marketing coordinator at major exporter Alanar, with volumes expected to be comparable to last season and quality and sweetness both typically high.
Since the start of the season, Alanar reports that weather conditions have been "ordinary", although the impact of climate change is a cause for concern globally, according to Gökyigit. "Climatic conditions have been a significant factor in Turkey in the last couple of years," he says. "We have been experiencing short seasons for some fruits, and early and late regions are overlapping with regular regions. Crop volumes have also been down for some export items."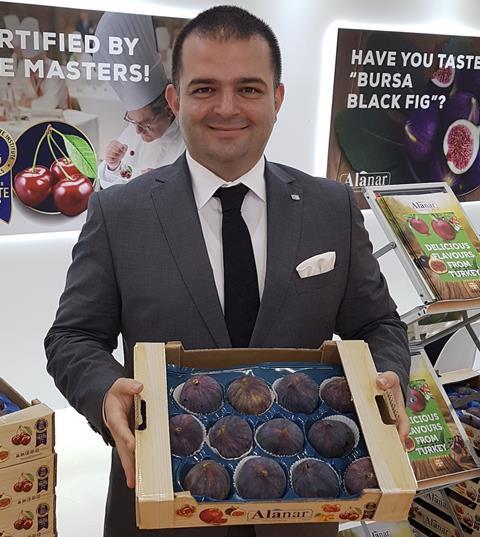 Understandably, sustainability is top of the company's agenda. "Sustainability has always been important for Alanar and our parent company Tekfen Holding, and we have been working for years on waste management and social responsibility projects," he says. "Alanar uses the most technologically advanced sorting machines that boost water and energy efficiency."
Such efforts also help to keep costs down at a time of soaring inflation. "As in Europe, inflation is a significant issue that Turkey is dealing with at the moment," says Gökyigit. "The increase in gas prices has also affected our logistics costs dramatically. We paused our counter-seasonal fig project in Peru due to the high logistics cost. The fruit needs to be shipped by air, and airfreight costs are much higher now in that part of the world."
But high logistics costs are not expected to alter the company's export markets. "Alanar exports its fruit to over 30 countries and we keep receiving demand from across the world," says Gökyigit. "Therefore, we have not switched our markets. Increasing logistics costs are affecting the whole world at the moment, so if there is the demand, and the market is willing to pay a bit more, you can still send the fruit."
Alanar expects to harvest a total of 100 tonnes of figs this year from its own orchards, mainly for export to Europe. "We mostly send our fresh figs to Germany, the Netherlands and France," says Gökyigit. "Figs are a very popular fruit in Europe, especially the Black Bursa, which is the most popular Turkish variety among European consumers.
"In Asia, we are also seeing great demand as usual. Alanar has exported figs to the Asia-Pacific region for years. The main markets for us are Hong Kong, Singapore and Malaysia, where the Alanar brand and Turkish figs are very well known."
Alanar was able to make a huge investment in plantations after the company was acquired in 2018 by Tekfen Holding, one of the largest conglomerates in Turkey, active primarily in contracting, agriculture and real estate development. Operating as a subsidiary of Tekfen Agri, Alanar not only packs and exports but also grows cherries, figs, apricots, plums and blueberries in its own orchards.
"Alanar grew over 1,200 tonnes of apricots this year," says Gökyigit, "and we expect to harvest more than 2,000 tonnes of cherries, 2,000 tonnes of figs and 2,000 tonnes of apricots annually in the next couple of years once the orchards have reached their full potential."