Belgium's Biobest says that Artemac provides a cost-effective means of supporting its Orius-System to control thrips in sweet peppers and other crops
Biological control specialist Biobest has revealed that trials on optimising thrips control using its Orius-System show supplementary feeding enhances early establishment in the crop, improving overall results.
In order to help growers to protect their margins, the company has recommended a cost-effective solution by using Artemac.
"Ephestia kuehniella moth eggs are considered the 'gold standard' food for Orius," said product manager Ines de Craecker. "However, their cost is a downside.
"To optimise control while protecting growers' margins, we recommend feeding Orius-System with standard Artemac. User-friendly and offering simplicity, Artemac can also be stored for long periods and is more cost-effective – it offers great value for money."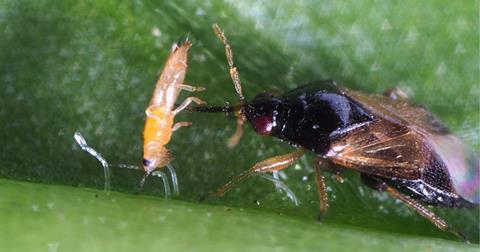 Biobest said that empirical evidence suggested growers using Artemac were achieving excellent predator establishment, with laboratory trials showing a 40 per cent higher survival rate of Orius adults with access to Artemac.
Orius is key to good thrips control in sweet pepper and other crops, introduced early as part of preventative biocontrol, according to Biobest.
"Good predator establishment is a key component of the overall strategy," the company said, "with the progeny providing effective control later in the season."
As part of its continuous product improvement programme, the company last year redesigned its packaging for Orius-System.
"The new 100 per cent biodegradable cardboard carton contains a gel formulation providing a source of water for the predatory bugs during transport," said de Craecker. "Arriving in optimal condition, these improvements in overall Orius laevigatus quality have been observed to boost establishment and ultimately thrips control in commercial crops.
"Now, new laboratory trials confirm Orius females with access to this gel carrier live considerably longer. By providing a water source, the gel carrier boosts survival as well as overall fitness of the adults."