The Belgian cooperative is hoping to bring out students' "inner Einstein" during the exam period, depicting the scientific genius on its tomato shakers this month
Belgian cooperative BelOrta has unveiled its new snack tomato shaker, emblazoned with an artistic rendering of Albert Einstein, as it seeks to encourage young people to "bring out their inner Einstein" during the exam period.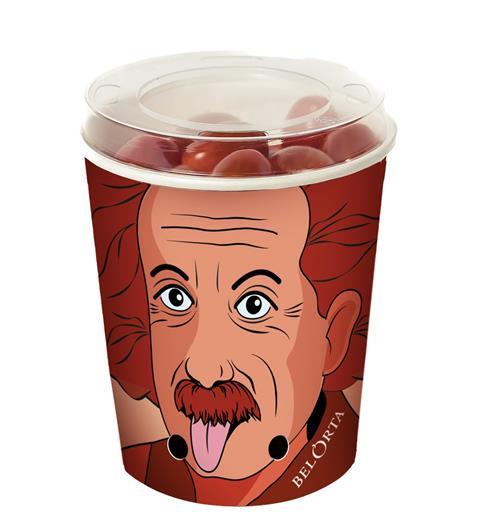 The shakers will be available throughout the month of June, and BelOrta said it wants to get students eating more healthy snacks as they spend more time at their desks.
"With cherry tomatoes as the ideal brain booster, BelOrta wants to encourage students to choose a healthy replacement for sweets and possibly less healthy snacks," the cooperative stated. "This way they don't have to worry about their waistline while studying and they can fully focus on the subject matter. Getting smarter and snacking healthy, Einstein would be proud."
According to BelOrta, cherry tomatoes have earned a permanent place in shopping baskets over recent years. Belgians eat an average of 1.78kg of cherry tomatoes a year, and they are popular with young people and families with children.
"That shouldn't be surprising," BelOrta said. "Thanks to their handy size, nice crunchy bite and deliciously sweet taste, they are ideal for on the road or as a snack at work or at school."