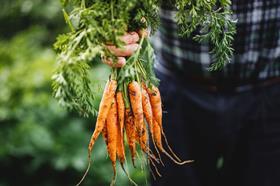 British foodservice multinational Compass Group has banned the use of airfreight for the procurement of fresh fruit and vegetables across its entire UK and Ireland operation.
The decision, which follows a similar move within its UK sports venue and hospitality arm, means the company's sourcing division Foodbuy will look to increase the volume of local and seasonal produce it buys.
Compass recently outlined a series of "systemic changes" that it said would make it climate neutral by 2030.
According to the group, its chefs have reworked their menus to accommodate the change.
Foodbuy now has a dedicated sustainability team, which reviews its supply chain and looks for ways to help suppliers become more sustainable.
That entails regenerative agriculture and a switch from animal- to plant-based proteins, as well as sourcing seasonally and from nearer to market.
Anne Simonnet, head of sustainability and compliance at Foodbuy, commented: "Fruit and vegetable produce is our second-biggest buying category, so to have none of these items airfreighted is significant. We have worked hard to find suppliers that are closer to home – with no compromise on quality."
Carolyn Ball, director for delivery of net zero at Compass Group UK & Ireland, added: "We must match our intent with the urgency to act and we would like to thank our partners, suppliers, colleagues and clients for supporting us on the journey so far. Together we will, and we must, continue to be a catalyst for transformative change."