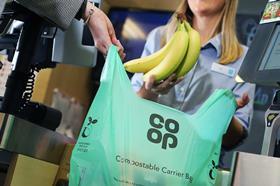 Campaign group A Plastic Planet has laid out its 'Red & Green List' to inform packaging designers, brand owners, retailers and governments on the correct use of compostable materials as an alternative to plastic packaging.
"With the government pledging to reduce the amount of food waste going to landfill by 20 per cent within the next four years and increase the overall amount of food waste collected, the potential role compostable food packaging could play is clear, but has yet to be formally recognised," A Plastic Planet stated.
The Red & Green List calls for compostables to be used "only when their end-of-life is designed to help bring food waste into the composting waste stream, stop soil pollution and to help regenerate soil for food production".
A Plastic Planet pointed to the FAO's warning that a third of the world's soils were already degraded, and over 90 per cent could be by 2050. "The world's soils are up to 23 times more polluted with plastic than its oceans," the campaign group stated, "and intensive farming practices are further reducing soil fertility."
According to the report, when compostables are collected alongside food waste, they can be turned into fertile composted biowaste. When they are specified wrongly, however, they risk creating confusion.
"Green list items, where the compostable material can act as a bio-conduit for food waste without contaminating it, include carrier bags, fruit and vegetable stickers, and teabags," the report stated. "Red list items identified include pallet shrink wrap, bottles, non-food packaging bags, and clothing apparel and shoes packaging, as these are unlikely to be disposed of with food waste."
The UK government's mooted Environment Bill will look to introduce separate food waste collections from households and businesses, increasing food waste collections by 1.35m tonnes by 2029. However, according to A Plastic Planet, the role of compostable packaging remains unclear.
"Compostables have a crucial role to play in ending the scourge of plastic, but only if they are used correctly," said A Plastic Planet co-founder Sian Sutherland."We created this report to help clear up the very understandable compostable conundrum so we keep our composting systems and our soils clear of plastic."
Charlotte Williams, professor of Inorganic Chemistry at the University of Oxford, commented:"A vital step towards regenerating our damaged agricultural soils is recognising the role compostable packaging can play in restoring them. The scale of the soil health crisis is unprecedented, and presents a genuine threat to food security. Once we understand this, it's clear why compostable materials should be used to substitute plastic in certain product formats where we know they will be processed properly."