Growers in Egypt anticipate a rewarding citrus season, with prices expected to remain good despite rising volumes and new markets opening up for exporters
Last season, citrus exports from Egypt reached 1.8m tonnes, and with production continuing to increase, that figure is projected to keep on rising, according to Ahmed Ghazy, export director at Capital Agro Co. The country has been the top exporter for oranges for the last three years, and declines from rival producing countries, the result of extreme weather, could bode well for Egyptian growers.
Egyptian citrus production extends over nearly 200,000ha, not just oranges, but tangerines, lemons, grapefruits and other varieties. Oranges are number one, accounting for 85 per cent of total citrus exports, according to data from the Egyptian Ministry of Agriculture.
Although Egyptian growers have also been affected by the weather, the impact has varied greatly depending on the production area, according to Ghazy. "Some citrus growers are reporting an increase in volume of 15-25 per cent," he says, "while others have seen a reduction of up to 40 per cent."
Ghazy anticipates a good orange season in terms of demand this year due to a lack of oranges in storage. "The Egyptian season is arriving at a time when the remaining stock from competing countries is quickly running out," he says. "With the decline in production of oranges in Spain and Turkey this year, prices of Egyptian oranges have been reinforced, while the markets are hungry for the new crop from Egypt."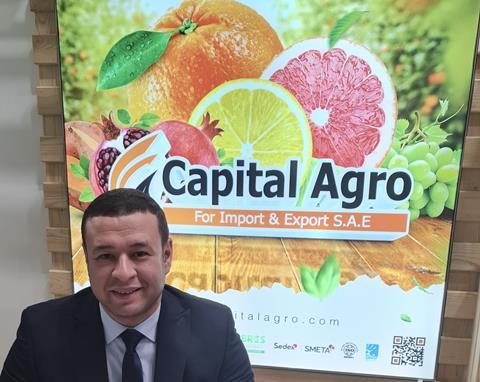 Ghazy described the past season as "near perfect". "Optimal weather conditions during the flowering of the orange trees increased fruit setting and production," he says. "On the other hand, heat prior to the harvest affected the size of the fruits, leading to a majority of small and medium-sized fruit."
Even with the heat waves during the blooming period, which affected flower set in some areas, Ghazy expects a good-sized crop and for Egypt to remain the top orange exporter to the EU. Egyptian exporters have also managed to open up new markets, including New Zealand, Brazil and Japan in order to help shift the continuously growing volume.
As production grows, says Ghazy, so will exports. Production is estimated to increase by 20 per cent to 3.6m tonnes and exports by 30.77 per cent to 1.7m tonnes, according to the Ministry of Agriculture. Top export markets remain Russia, the EU and the Middle East, as well as East Asia, where the increased supply of Egyptian oranges caused a drop in prices at the end of 2022.
Besides the favourable weather, Ghazy puts Egypt's recent success down to a host of reasons, including the implementation of integrated pest managements approaches by growers and commercial farms, using biological controls and closely monitoring crops for pests and diseases.
"The idea of coding farms has also been applied, giving each shipment and farm a verification number, the aim being to achieve full control of the product from farm until export overseas," he says. "Here at Capital Agro, we export our products to more than 52 countries around the world, and we work to implement all procedures and requirements for each customer, guaranteeing the export of a high-quality product that conforms to the specifications of each market."
Capital Agro intends to more than double its usual export volume of 11,000 tonnes this season, as the company targets new markets such as Brazil, Japan, the Philippines and New Zealand.