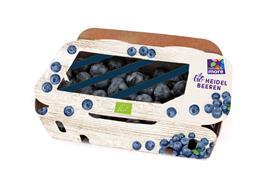 In Europe, the anti-plastic movement appears to be gaining momentum, with Spain recently announcing plans to ban plastic packaging on fruit and vegetables weighing less than 1.5kg from 2023. In France, a comparable ban starts next month, while others are almost certain to follow.
Dutch organic supplier Eosta says it is ready for the change, with a range of 100 per cent plastic-free packaging ready for the coming year.
'Many consumers are annoyed by the excessive abundance of plastic in supermarkets,' the company stated. 'And this certainly applies to fruit and vegetables.'
And despite their sustainable production credentials, the packaging used for organics has equally been a part of the problem. 'Supermarkets frequently package organic fruit to differentiate it from conventionally grown products,' Eosta stated. 'A terrible shame for this type of sustainable product because, unfortunately, a great deal of plastic ends its life polluting the environment.'
Back in 2017, Eosta pioneered Natural Branding laser labelling, doing away with the need for packaging completely.As the company's packaging manager, Paul Hendriks, says: 'The most sustainable packaging is no packaging. This is why we will always continue searching for new, better solutions.'
According to the company, Natural Branding has saved 30m packaging units and 1.5m kilograms of CO2 over the last five years.
And for those products that still require packaging, the company has come up with a number of paper-based solutions, including PaperSleeve and PaperShaker, and most recently PaperBox and PaperPack.
However, Eosta said that the final decision would have to be made by the retail sector. 'Price differences, marketing, shelf-life, functionality and efficiency are all influential factors,' the company stated. 'However, the issue is crystal clear for Eosta.'
Eosta's plastic-free options:
Natural Branding: packaging-free solution using laser technology. For Suitable products include: organic avocados, mangoes, kiwifruit, pumpkins, sweet potatoes, ginger.

PaperPack: a real flowpack made of paper with a thin viscose net
Suitable products include: organic apples, pears, tomatoes, avocados, limes, lemons.

PaperBox: an attractive paper/cardboard box with a culinary look
Suitable products include: organic blueberries, ginger, turmeric, dates, passion fruit.

PaperSleeve: paper/cardboard boxes ensconced in an open wrapper.
Suitable products include: organic apples and pears or other large fruits.

PaperShaker: shakers made from paper/cardboard
Suitable products include: snack products such as grapes.

Other plastic-free options: paper/cardboard carry trays with handles, date boxes, physalis trays and viscose nets for citrus.