As Europe's sweet potato season comes to a close and top-quality organic volumes fall off, Eosta is turning earlier to Brazil and the US
Nearing the end of the European sweet potato season, a decline in high-quality organic volumes from producers in Europe has encouraged Dutch organic specialist Eosta to act earlier in switching to overseas imports.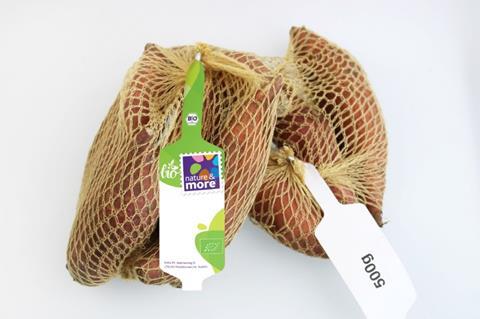 "Eosta has secured production of organic sweet potatoes in Brazil and the US," the company said. "Because the qualities of good organic sweet potatoes at producers in a number of European countries did decline faster than expected and the quantities are no longer large either, Eosta has decided to import this earlier."
Programmes of the pink-skin, orange-flesh Covington sweet potato from North Carolina are scheduled for week 18, Eosta revealed, while Brazilian volumes of Beure Beauregard commence from week 21.
"The Beauregard has orange tuber flesh and has a healthy and vigorous growth and in principle it is available year-round," Eosta said. "Production takes place in an environmental protection area in Goiânia, Goiás, in the heart of Brazil. Although organic sweet potatoes are their specialty, they also grow broccoli and maize as crop rotation to keep the soil fertile."
With the popularity of sweet potatoes soaring in recent years, Eosta has strived to develop sustainable packaging solutions, including the use of "Natural Branding".
"For more than five years, sweet potatoes have been provided with an organic label, a private label and/or PLU with Natural Branding," the company said. "This is not only the cheapest, but also the most sustainable way to sell the product distinctively on shop shelves."
Eosta has also invested in a machine to pack sweet potatoes in cellulose nets, a solution that is apparently taking off in natural food chains and supermarkets.
"Among customers who introduced net packing, we see that sales on the same shop shelves increased by almost 30 per cent," the company revealed.