European Kissabel partners predict a relatively short season marked by high demand for the red-flesh apple range
Kissabel, the range of red and pink-flesh apples developed by Ifored, is set to return to Fruit Attraction in Madrid on 4-6 October to offer tastings of new-season apples, provide an update on the current campaign and delve into the future plans of the brand.
Harvesting of the Northern Hemisphere's first Kissabel apples started in late August, around ten days earlier than normal. First to harvest were French partners Mesfruits, Blue Whale, and Swiss company Fenaco.
This season, the UK is set to market the entire range for the first time through Worldwide Fruit, which will also distribute the Rouge variety, while Greenyard will continue to offer the Orange and Jaune varieties.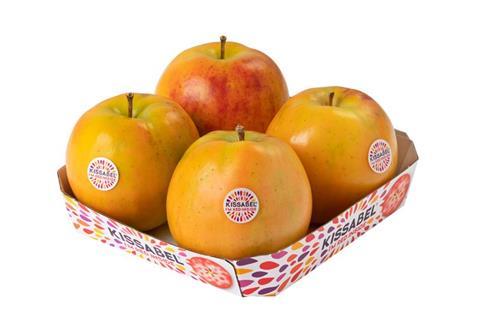 At the start of October, the harvest will then begin in Germany, led by Red Apple Germany, and in Italy through Melinda, Rivoira and VIP. The first commercial campaign of US partner NBT will reportedly commence in 2023.
According to Kissabel, last season's success, with demand once again exceeding supply, has precipitated a rush to start the 2022 campaign. Expectations are high among producers for both volumes and sizes, in addition to fruit quality and colouration.
European partners expect to achieve their highest sales in the initial months of the trading season, with most anticipating a relatively short campaign due to high demand and low product availability.
In many countries, the promotional peak comes around Halloween in October, particularly for red-skinned apples with red flesh. Marketing from partners is set to include tastings, advertising at point of sale and use of social media like Instagram and Facebook, with content aimed directly at consumers.
Photos, interesting facts and original recipes will be available on the Kissabel website. In Germany, a 'Baking Red' event will see prizes given for the best images of recipes incorporating red-flesh apples, according to Wolfgang Kreiser, managing director of Red Apple Germany consortium.
"In France, we will once again be concentrating our in-store marketing activities at Halloween," said Adrien Touzet, export marketing manager at Blue Whale. "We have prepared a themed shopper and a game for consumers. What's more, we have produced informative materials for points of sale and new six and eight-fruit packagings for the whole Kissabel range sale period. These packagings will also be used for the European markets, where we are organised to provide ad hoc in-store activities if appropriate."
"We are expecting a dynamic sales season," added VIP's Fabio Zanesco, "and will be focusing on tastings, both in modern distribution and in the traditional market, to excite consumers' curiosity. We also will be using the special Kissabel multipack for sampling addressed to B2B customers. The contents and activities of the brand's international profiles will also be renewed and amplified via our channels. Volumes are going to increase rapidly in 2023 and 2024, and to accompany this we will further intensify our marketing actions, with more detailed management."
"In the UK, the fruit's finish appears to be very good," said Hannah McIlfatrick, sales manager at Worldwide Fruit, "and, provided water supplies do not fail, the size profile seems to be much improved compared to last year. Growers have put a great deal of time and effort into the management of tree loads and crowns, and this should ensure good sizes and internal colour and an outstanding Brix level."