The Egyptian producer is developing new varieties of stonefruit and grapes, while blueberries are the latest addition to the group's portfolio
Hamdy Fayed, chairman of Egyptian producer FATA Farms, says the development of new varieties, of stonefruit, table grapes and now blueberries, remains a top priority for the company.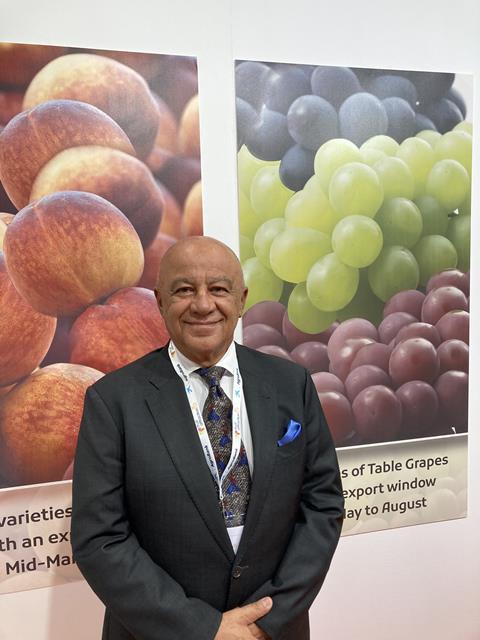 "We have already planted commercial stonefruit varieties from Sun World," he says. "In table grapes, we have planted commercial varieties from Sun World, IFG and SNFL. So we have a very good portfolio of all kinds of varieties from breeders around the world."
The latest development at the company, according to Fayed, is blueberry production. "The first year of production was this season," he reveals. "We managed distribution to East Asia by air, and the local market was really good as well."
The company has commenced with small volumes, but plans for expansion are taking shape. "We sent some small volumes to Malaysia and Singapore, but I think there's also potential on the European market," says Fayed.
"There are four or five other companies in Egypt looking at blueberries," he adds. "All of us are in the trial phase, learning the growing process and understanding which varieties work well in Egypt's weather conditions. I attended Global Berry Congress in the Netherlands twice. So I got some good knowledge about the industry and I met Fall Creek, who are now our main supplier for blueberries."
Gaining access to the best varieties appears no longer to be a problem ever since the Egyptian authorities signed up for UPOV, the International Union for the Protection of New Varieties of Plants.
"In the past, breeders like Sun World didn't want to bring their varieties to Egypt," says Fayed. "It took quite some time in the Egyptian parliament, but finally, three years ago, Egypt signed, so we now have the best varieties planted in the country."
As for changes in the weather, Fayed says every breeding company is currently working on developing new varieties that can withstand extreme conditions.
"The climate is definitely changing, there is no doubt about that," he laments. "We have our weather station, and we keep monitoring the situation. Ten years ago, we used to have rain once or twice in April, that's it. Five or six years ago, we started to have rain once or twice in May. This year, in addition to April and May, we had rain in June – twice. We have never experienced such conditions.
"And of course, with global warming, winter is no longer winter. It now comes very late and lasts into spring, which is also shrinking. For all fruits you need cool nights and when it's too hot, the roots don't take in all the water and nutrients the plant needs."