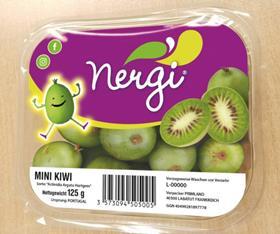 Nergi kiwiberry growers commenced picking more than ten days earlier than usual this year, according to Jean-Pierre Caruel, head of licensing at French company Sofruileg.
Favourable orchard conditions have helped to deliver 'excellent flavour qualities' in the main production regions in France, Italy, Portugal and Spain, the company revealed.
Volumes have increased steadily, according to Caruel, with more than 6m 125g punnets set to be distributed by the four approved commercial operators in Europe: Primland, Ortofruit, Portprimland and BFruit.
'There is already high demand for berries in northern European countries, where Nergi has been received with enthusiasm as a new item in this sector,' he said. 'Germany has quickly established itself as the leading market for Nergi, ahead of steadily growing demand in Scandinavian countries. France and the southern European markets are in the process of adopting the product.'
According to Sofruileg, a 'substantial' promotional budget has been allocated in order to develop the product's image and provide point-of-sale support, with an emphasis on social media due to the current pandemic.
The company revealed that production of organic kiwiberries was increasing, while its use of plastic was gradually being reduced. Nergi punnets now consist of more than 85 per cent recyclable plastic, according to Caruel, while this year more than half of Nergi volumes are set to be packed with a film seal as opposed to a plastic lid.