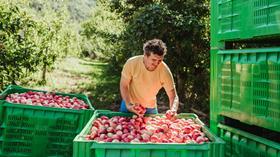 Fruit and vegetable producers in Europe say they fear the possible negative effects of the European Commission's Green Deal, despite their broad support for its central aim to boost organic farming and to halve the amount of pesticides used in agriculture by 2030.
A recent study carried out by Wageningen University & Research found that the policy's focus on tackling climate change and a loss of biodiversity was likely to have various adverse consequences.
These include a decline in crop yields and a resultant increase in prices, as well as a fall in European exports – potentially from 1.3m tonnes to 450,000 tonnes – and greater imports from outside the EU.
For example, the study found that Poland and Italy could lose as much as 50 per cent and 30 per cent of their apple production respectively.
"The Italian apple system would therefore be among the most affected by the policies of the Green Deal," said a spokesperson for Italian growers' association Assomela, "with a serious loss of production and income for European and Italian apple growing, which would jeopardise the very permanence of farms in the countryside."
Davide Vernocchi, head of fruit and vegetables at Italy's Alliance of Agribusiness Cooperatives and president of Italian fresh produce giant Apo Conerpo, says his organisation welcomes the report's findings.
"In addition to the decrease in volumes, we risk losing all the richness of productive biodiversity that is typical of the Mediterranean area," he says. "Not only that, many Italian companies will be forced to stop growing their apples, while we will see products from Egypt or Turkey arrive on our tables, with quality requirements that are much lower than European standards."
Four possible scenarios
The Wageningen study, which was commissioned by the crop protection industry associations CropLife Europe and CropLife International, looked in particular at the impact of the Farm to Fork and Biodiversity strategies, which are both part of the European Green Deal.
Focused on 25 companies in seven different countries, the researchers looked at annual crops including tomatoes, as well as perennial crops – apples, olives, grapes and citrus.
They then mapped out the potential impact of four different scenarios, based on the strategies due to be adopted.
The first scenario assumed a 50 per cent reduction in pesticides, including the group of pesticides most harmful to the environment.
The second considered a halving of nutrient losses and a 20 per cent reduction in fertiliser use, while the third gave at least 25 per cent of agricultural land to organic production.
Finally, the fourth scenario combined the objectives of the first two, and left at least 10 per cent of farmland to nature.
"This last scenario gives the best insight into the combined impact of the proposed measures," the researchers said.
According to Johan Bremmer, researcher at Wageningen University & Research, the study showed that the Green Deal strategies will have a negative impact on crop yields and agricultural production.
'Scenario four analyses a cumulative impact of several farm to fork targets. Think of reduction in pesticide use and prevention of nutrient loss," he explains.
"This scenario shows an average production decline of between 10 and 20 per cent. Some crops suffer more than others. Production volume can decline up to 30 per cent, but there are also crops that hardly suffer at all as a result of the Farm to Fork strategy."
The researchers also point to potential quality problems as a result of fewer pesticides and fertilisers being used.
Those include lower yield per hectare of apples, reduced fruit sizes, and lower external quality.
'If demand remains unchanged, Europe will have to fill the gap by importing more," Bremmer predicts, adding that countries outside Europe will have to produce more.
"We have calculated how many hectares of farmland outside the EU are needed to absorb this combination of effects," he adds. "In every scenario, this indirect land use change is considerable.'
However, Bremmer admits the study represents a purely economic assessment of the Green Deal's impact.
"It is good to realise that the European strategy is intended to achieve benefits in terms of climate and biodiversity," he says. "These benefits are not part of this study's scope.'
Objective assessment
Vernocchi insists that a holistic approach to climate change, one that takes into account the future impact on Europe's ability to grow crops, is essential.
"As we wait for the European Commission to make a complete impact assessment on the effects of the new strategies, a publication as wide and accurate as that of the Dutch study is extremely important because it helps make citizens more aware of the consequences of these choices," he argues.
"We share the European Green Deal's ambitious goals, even when it comes to protecting biodiversity, but every political decision must come with an evaluation of the possible impacts on production. Dialogue between producers and consumers must continue."
Assomela insists that an objective impact assessment is essential in order to make sense not only of the Wageningen report, but of other previous studies by the USDA, Kiel University, and the EC's own Joint Research Centre.
"Impact estimates and monitoring of economic and market dynamics are essential to identify the feasibility of the Green Deal objectives, respecting dialogue with producers, and protecting economic sustainability, the cornerstone of sustainability," it states.
"Furthermore, risk assessments should take into account the changed scenario in which we operate. The cost of energy, raw materials and logistics are skyrocketing, and in recent years the effects of climate change have already undermined European production and income."