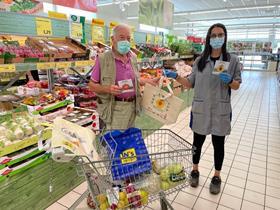 Italian fresh produce giant Apo Conerpo's EU-backed consumer campaign In&Out has launched into a series of promotional activities in retail stores around Europe.
Following its official presentation in May, the project has organised a total of 3,400 promotional days in major supermarkets across Italy and other European countries.
"There are a good 340 retail outlets involved in this first phase of the In&Out activities," explained the president of Apo Conerpo, Davide Vernocchi.
The pandemic had inevitably slowed down some of the project's activities, Vernocchi admitted, but the promotions – co-financed by the European Community – are running in Italy, Austria and Denmark.
"The goal will be to help consumers discover that there is a whole world within European fruit and vegetables: in every fruit and every vegetable, there is a daily commitment made towards respect for the environment, conscious agriculture, saving natural resources, good agronomic practices, circular economy, safety and traceability," he added.
In italy, eight supermarket chains are taking part. In 240 stores operated by Bennet, Conad, Coop Italia, Arena Group, and iN'S, shoppers will discover information corners that explain the project, and in particular the nutritional characteristics and sustainability of European fruit and vegetables.
"The restrictions imposed by the pandemic still prevent us from carrying out sampling activities," Vernocchi noted, "but many thousands of consumers from Trentino Alto Adige to Sicily have already discovered In&Out and the values of our fruit and vegetables."
The campaign has also underlined its core message by handing out a special free gift, he added. "We chose a nice ecological cotton shopping bag, a perfect synthesis of that sustainability and care for the environment that we are witnessing."
The first year of activities continues until the end of August, with a special focus on the Danish market.