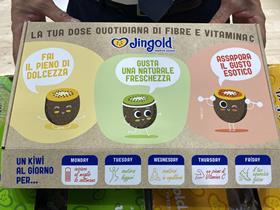 Marketing consortium Jingold has started selling its range of branded kiwifruit direct to consumers in Italy via an online portal.
According to recent research carried out by the company, health is the top driver of kiwifruit purchases in Italy.
So, in a move designed to make consumers more aware of its nutritional content – chiefly Vitamin C and a large intake of fibre – it says it wants to encourage people to eat the product on a daily basis.
The ecommerce site will sell three special pack formats that contain seven, 14 or 21 kiwiftuit in a mix of different varieties.
Through a specially developed web app, customers can even locate their nearest stockist and see which Jingold varieties are available.
The launch was accompanied by the start of a new advertising campaign in fruit and vegetable markets across Italy, one which promotes Jingold as 'The Kiwifruit Specialists'.
Rising demand
With the new Italian kiwifruit marketing campaign now underway, Jingold says it wants a closer connection with consumers.
Sales of the fruit have apparently rocketed in the last few years, and the company says more and more consumers are paying attention to the quality and properties of what they buy and eat.
As that demand grows, it has also started to sell more of a new flagship product, the red-fleshed kiwifruit Oriental Red.
"There is a lot of interest and curiosity about red-fleshed kiwifruit," says marketing manager Federico Milanese. "The first plantings are steadily coming into production and this year the volumes have increased a lot. The product has a very high Brix level and excellent dry matter, which is why we are convinced that the winter campaign will be successful."
Increasingly sustainable
As this year's harvest comes to an end, it appears the quantity of Hayward sold under the Jingold Green brand will be more or less in line with last year's figure.
However, there is expected to be a 10 per cent volume increase for the consortium's yellow-fleshed variety compared with the previous season, with good sizing and a high Brix level.
Production of the group's organic yellow-fleshed kiwifruit is set to rise by 30 per cent, which it said would allow it to grow its market share in that particular segment faster than anticipated.
And as for many fruit and vegetable marketers in 2021, sustainability is also a key theme for Jingold.
"We have embarked on a path to find increasingly sustainable solutions," Milanese notes, "trying to create entire product lines with 100 per cent recyclable materials, while maintaining the goal of preserving the quality of the product inside the package.