Costs are rising throughout the sector, while consumer budgets are plummeting, but top standards remain non-negotiable at Greece's Kaplanis Fruits
For an old family business like Greek strawberry producer Kaplanis Fruits, challenges – crises even – are nothing new. But following the Greek economy's gradual recovery from the 2008 debt crisis and the impact and uncertainty of Covid-19, soaring costs this year have put paid to any hope of a respite.
"Costs have gone sky-high," says the company's Petros Kaplanis. "Because of the rise in energy prices, the cost of everything has increased - packaging materials, plastics, in fact everything you can think of in the packing process. We are also struggling in Greece from a lack of availability of workers. We had plans to increase our production in the fields, but we have decided to maintain the same level due to these crises."
The cost of transportation has also increased, from the field to the packhouse, as well as to the company's export markets. "As of last year, we prefer markets in the Balkans as transportation costs have risen so much," says Kaplanis. "They are up by 40 per cent or more. For example, last year, delivering from Greece to Spain cost around €2,800; now it is around €5,800. From the field right up to the supermarket shelves in Europe, you cannot imagine how many challenges we have to take care of and bear with. It's a crazy situation right now."
Someone of course has to bear the cost, and Kaplanis believes it will fall on the production side. "We will have to reduce our profits," he says. "To keep our clientele, to maintain our quality and uphold our standards as a company, sometimes we have to take on the burden of such increases. Sometimes, we would like to pass on some of the extra cost, but everyone knows how consumer budgets have fallen."
The goal for Kaplanis Fruits right now is to maintain the good reputation of the brand and its strawberries. "We need to keep our brand name as high as it is right now," says Kaplanis. "We will not decrease our quality or sell our brand short. So we are keeping standards very high."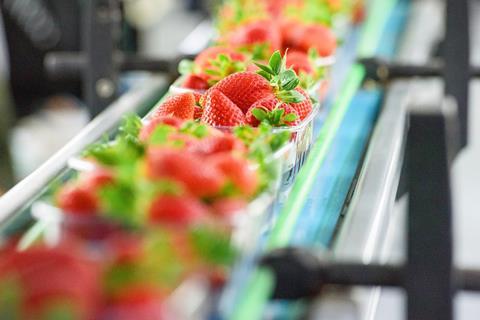 The company's main variety is Rociera, along with Fortuna and Victory. "We have been producing these varieties for the past years," says Kaplanis. "We are doing many tests in the field looking for new varieties, and seeing if they suit the climate here in Greece. It's difficult. With any new variety, it has to be better than the ones we already grow, such as more robust during travel so the fruit reaches the destination in perfect condition. We continue to trial new varieties, but at the moment we haven't found anything new."
Part of its sustainability efforts, the company is also installing solar panels at the company's facilities, which Kaplanis hopes will reduce the impact of rising electricity prices. "At the moment, we are around 80 per cent of the way there," he confirms.